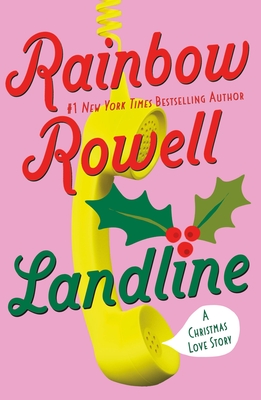 Landline: A Christmas Love Story
Publication Date:
September 28th, 2021
Publisher:
St. Martin's Griffin
Chop Suey Books
2 on hand, as of Feb 6 11:23am
On Our Shelves Now
Georgie McCool's professional dreams are coming true and she couldn't be happier, except that it means the slow implosion of her marriage is about to speed up. Georgie's husband, Neal, and their kids leave for Christmas while Georgie stays behind to work on her new TV show and she is left alone with memories of when things were better. Those memories almost become reality when she discovers that her mother's landline can connect her with Neal in 1998, before he proposed. Landline is an incredibly emotional, honest, and often hilarious look at a marriage on the brink and the choices that must be made when dreams aren't enough.
July 2014 Indie Next List
Description
IF YOU GOT A SECOND CHANCE AT LOVE, WOULD YOU MAKE THE SAME CALL?
From No. 1 New York Times bestselling author Rainbow Rowell comes Landline: the story of two magical Christmases and one magical telephone. Now featuring an updated jacket cover perfect for the holidays!
Fifteen years ago, on Christmas Day, Georgie McCool's boyfriend drove halfway across the country to propose to her.
This Christmas, he's headed in the other direction.
Should Georgie follow him?
Should she call him and beg him to come back?
Something very strange happens every time she picks up the phone...
Praise for Landline: A Christmas Love Story
"The magic phone becomes Ms. Rowell's way to rewrite 'It's a Wonderful Life'…what that film accomplished with an angel named Clarence, Ms. Rowell accomplishes with a quaint old means of communication, and for her narrative purposes, it really does the trick." —The New York Times
"While the topic might have changed, this is still Rowell--reading her work feels like listening to your hilariously insightful best friend tell her best stories." —Library Journal, starred review on Landline
"Her characters are instantly lovable, and the story moves quickly…the ending manages to surprise and satisfy all at once. Fans will love Rowell's return to a story close to their hearts." —Kirkus Reviews on Landline
"Rowell is, as always, a fluent and enjoyable writer--the pages whip by." —Publishers Weekly on Landline
"Keen psychological insight, irrepressible humor and a supernatural twist: a woman can call her husband in the past." —Time Magazine on Landline
"The dialogue flows naturally; it's zippy, funny, and fresh. The flirtation between young Georgie and Neal is genuinely romantic." —Boston Globe
"After the blazing successes of Eleanor & Park, Fangirl and Attachments, it's become clear that Rowell is an absolute master of rendering emotionally authentic and absorbing stories...While the novel soars in its more poignant moments, Rowell injects the proper dose of humor to keep you laughing through your tears." —RT Book Reviews on Landline
"To skip her work because of its rom-com sheen would be to miss out on the kind of swift, canny honesty of that passage, which is typical of the pleasures of Landline -- it's a book that's a joy from sentence to sentence, and on that intimate level there's absolutely nothing unoriginal or clichéd in the way Rowell thinks. Her work is dense with moments of sharp observation…and humor." —Chicago Tribune Printers Row
"But a focus on the endings is the wrong one when you're reading a book of Rowell's. What matters most are the middles, which she packs with thoughtful dissections of how we live today, reflections upon the many ways in which we can love and connect as humans, and tacit reassurances of the validity of our feelings regardless of our particular experiences." —Slate.com on Landline
"Landline might not have any teenage protagonists, but it does have all the pleasures of Rowell's YA work -- immediate writing that's warm and energetic" —Time.com
"More gentle, more real than Douglas Coupland, more smooth and also more clever than Helen Fielding. Truly, slowly, sweetly gorgeous." —The Globe & Mail