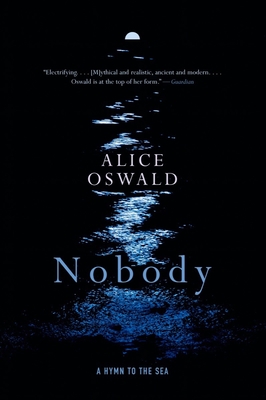 Nobody: A Hymn to the Sea
Publication Date:
May 3rd, 2022
Publisher:
W. W. Norton & Company
Chop Suey Books
1 on hand, as of Feb 8 9:12pm
On Our Shelves Now
Description
A collage of water stories from the Odyssey, reconstructed as a mesmeric and hallucinatory book-length poem by acclaimed poet Alice Oswald.
In Memorial, her unforgettable transformation of the Iliad, Alice Oswald breathed new life into myth. In Nobody, she returns to Homer, this time fixing her gaze on a minor character in the Odyssey—a poet abandoned on a stony island—and the sea that surrounds him. Familiar voices drift in and out of the poem; though there are no proper names, we recognize Helios, Icarus, Alcyone, Philoctetes, Calypso, Clytemnestra, Orpheus, Poseidon, Hermes, and the presiding spirit of Proteus, the shape-shifting sea-god.
As with all of Oswald's work, this is poetry that is made for the human voice, but here the language takes on the qualities of another element: dense, muscular, and liquid. Reading Nobody is like watching the ocean; we slip our earthly moorings and follow the circling shoal of sea voices into a mesh of sound and light and water—fluid, abstract, and moving with the wash of waves.
Praise for Nobody: A Hymn to the Sea
A radical rereading and re-voicing of The Odyssey, an oceanic nameless lyric with undercurrents from The Oresteia and Philoctetes…Nobody is a sorrowing, timeless, up-to-the-minute, majestic, goose-fleshed meditation on what it is to be mortal.
— Rosanna Warren, author of So Forth
Electrifying…[Nobody] is mythical and realistic, ancient and modern…Oswald is at the top of her form here.
— Kate Kellaway - Observer
A paean to water, to the fluidity of language and the porousness between beings and stories…[T]he effects of reading Nobody linger in and around the mind long after the experience has passed.
— Maria Crawford - Financial Times
The rush of unexpected language is thrilling…It is a wonderfully skillful tarantella of syllables and images…Nobody is Oswald's most formally freehand work, a fragmentary gathering of murmurings searching for the excitement of new meaning.
— Jeremy Noel-Todd - Sunday Times
[Oswald is] a revolutionary, an eco-poet whose ideas are alive with sensory experience. These seeming paradoxes create exceptional resonance, and the sense of an urgency that transcends poetry itself…Nobody is a kind of verse novel which refuses even the conventions of storytelling.
— Fiona Sampson - Guardian