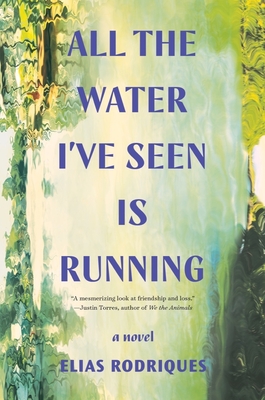 All the Water I've Seen Is Running: A Novel
Publication Date:
June 21st, 2022
Publisher:
W. W. Norton & Company
Chop Suey Books
3 on hand, as of Jan 28 5:03pm
On Our Shelves Now
Description
Former high school classmates reckon with the death of a friend in this stunning debut novel.
Along the Intracoastal waterways of North Florida, Daniel and Aubrey navigated adolescence with the electric intensity that radiates from young people defined by otherness: Aubrey, a self-identified "Southern cracker" and Daniel, the mixed-race son of Jamaican immigrants. When the news of Aubrey's death reaches Daniel in New York, years after they'd lost contact, he is left to grapple with the legacy of his precious and imperfect love for her. At ease now in his own queerness, he is nonetheless drawn back to the muggy haze of his Palm Coast upbringing, tinged by racism and poverty, to find out what happened to Aubrey. Along the way, he reconsiders his and his family's history, both in Jamaica and in this place he once called home.
Buoyed by his teenage track-team buddies—Twig, a long-distance runner; Desmond, a sprinter; Egypt, Des's girlfriend; and Jess, a chef—Daniel begins a frantic search for meaning in Aubrey's death, recklessly confronting the drunken country boy he believes may have killed her. Sensitive to the complexities of class, race, and sexuality both in the American South and in Jamaica, All the Water I've Seen Is Running is a novel of uncommon tenderness, grief, and joy. All the while, it evokes the beauty and threat of the place Daniel calls home—where the river meets the ocean.
Praise for All the Water I've Seen Is Running: A Novel
This novel; this portrayal of American youth—tender, and tough, and searching; this voice, which absorbs and transforms tragedy into elegy; this is one I've been waiting for. All the Water I've Seen Is Running is a mesmerizing look at friendship and loss, and Elias Rodriques is a devastating wonder.
— Justin Torres, author of We the Animals
All the Water I've Seen Is Running is an absorbing meditation on the power of memory and the people and places that make us who we are. Daniel's captivating excavation of his past made me reflect on the different pieces of ourselves we have to bury for survival.
— Maisy Card, author of These Ghosts Are Family
In this story of a Florida homegoing, Elias Rodriques builds a raw and poignant poetry out of colloquial speech. Race, friendship, sex, the violent bluster and hopeful tenderness of youth, running and swimming and gigging for flounder, guilt and grief, the past that slips through your fingers and the past that rides heavy on your shoulders—many deep tributaries merge here, in a river that meets the sea.
— Chad Harbach, author of The Art of Fielding
Rodriques brings a lyrical touch to his hero's inner life, making his past pains and present-day heartbreaks feel bone-deep. A well-turned exploration of how intensely place and history shape our identities.
— Kirkus
[A] fresh and rhapsodic debut...This melancholy story is a startling and necessary addition to the canon of works that parse what it means to grow up in the American South.
— Publishers Weekly (starred review)
[A] poignant debut… Rodriques reimagines the traditional tight-lipped detective who's at the mercy of an unjust world, infusing both the malaise and sociopolitical concerns of his generation into a novel built on other noir staples...Rodriques's prose is as measured as it is nuanced.
— Jakob Guanzon - New York Times
All the Water I've Seen is Running not only examines growing up, leaving home, changing, and then returning, but also examines how masculinity and maleness can ebb and flow depending on context... In rhythmic prose that belies the seriousness of the topic, Rodriques examines what it is to reconsider male friendship in adulthood, to balance newfound beliefs and acceptances, and to understand that who someone was as a teenager isn't the person they are now.
— Teddy Burnette - Ploughshares
This stunning, lyrical novel is a beautiful account of grief, memory, adolescence, and so much more. I loved the vivid Florida setting. I loved the complicated and specific depiction of race and sexuality. I loved seeing characters bounce off each other and change each other and perform for each other. This is a really special book.
— Sara Sligar, author of Take Me Apart
All the Water I've Seen Is Running is an impressive debut about the intersectionality of identity and memory, revealing how where we live and who we love can embed themselves so deeply, there is no escape.
— Rachel León - Chicago Review of Books
Rodriques' striking debut expands the geography of regional literature and convincingly demands acknowledgment of under-explored perspectives.
— Shoba Viswanathan - Booklist