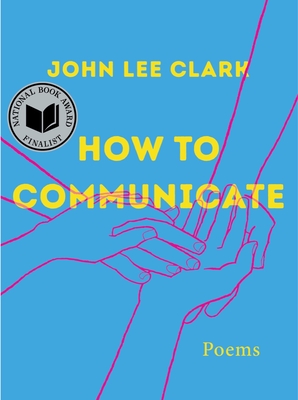 How to Communicate: Poems
Publication Date:
December 6th, 2022
Publisher:
W. W. Norton & Company
Chop Suey Books
1 on hand, as of Feb 8 1:19pm
On Our Shelves Now
Description
A stunning debut from an award-winning DeafBlind poet, "How to Communicate is a masterpiece" (Kaveh Akbar).
Formally restless and relentlessly instructive, How to Communicate is a dynamic journey through language, community, and the unfolding of an identity. Poet John Lee Clark pivots from inventive forms inspired by the Braille slate to sensuous prose poems to incisive erasures that find new narratives in nineteenth-century poetry. Calling out the limitations of the literary canon, Clark includes pathbreaking translations from American Sign Language and Protactile, a language built on touch.
How to Communicate embraces new linguistic possibilities that emanate from Clark's unique perspective and his connection to an expanding, inclusive activist community. Amid the astonishing task of constructing a new canon, the poet reveals a radically commonplace life. He explores grief and the vagaries of family, celebrates the small delights of knitting and visiting a museum, and, once, encounters a ghost in a gas station. Counteracting the assumptions of the sighted and hearing world with humor and grace, Clark finds beauty in the revelations of communicating through touch: "All things living and dead cry out to me / when I touch them."
A rare work of transformation and necessary discovery, How to Communicate is a brilliant debut that insists on the power of poetry.
Praise for How to Communicate: Poems
How to Communicate brims with the talent and generosity of a living classic. And what a talent! Take, for instance, Slateku, a form John Lee Clark has created based on Braille: it is both inimitable and available to anyone. Or take his brilliant prose poems that are completely unlike any other prose poems I have read.… There is simply no one else like John Lee Clark and I envy the readers who discover him for the first time.
— Ilya Kaminsky, author of Deaf Republic
The poems in John Lee Clark's revolutionary How to Communicate work together as a manifesto that lays bare the ways in which a society that assumes seeing and hearing as the norm views touch as suspicious, enough so to try to outlaw touch. And yet, if manifesto, also invitation: what might it mean to write 'forward in a different direction and from a different spatial perspective,' Clark asks, and goes on to show us, in poems of formal virtuosity, of fierce tenderness, of triumphant community.… How to Communicate is the steadily revelatory gift I didn't know I'd been waiting for.
— Carl Phillips, author of Then the War
A rare and gorgeous collection powered by human touch. John Lee Clark's poems approach, feel, and detail what we thought we recognized—a tree, an airplane, and even Goldilocks—on their way to challenging and enlarging our understanding of agency, community, and, most of all, language itself. How to Communicate is a vital and precious bridge made of language—and once crossed, it will transform readers' sense of the world.
— Aviya Kushner, author of Wolf Lamb Bomb