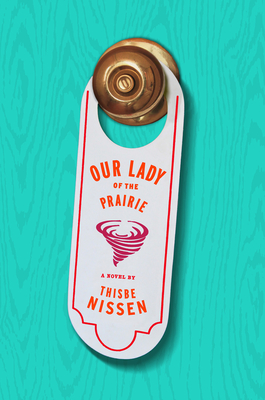 Our Lady Of The Prairie
Publication Date:
January 23rd, 2018
Publisher:
Harper Paperbacks
Chop Suey Books
1 on hand, as of Jan 28 5:03pm
On Our Shelves Now
Description
A sharp and bitingly funny novel about a professor whose calm-ish midwestern life gives way to a vortex of crises—and her attempts to salvage the pieces without going to pieces herself
In the space of a few torrid months on the Iowa prairie, Phillipa Maakestad—long-married theater professor and mother of an unstable daughter—grapples with a life turned upside down. After falling headlong into a passionate affair during a semester spent teaching in Ohio, Phillipa returns home to Iowa for her daughter Ginny's wedding. There, Phillipa must endure (among other things) a wedding-day tornado, a menace of a mother-in-law who may or may not have been a Nazi collaborator, and the tragicomic revenge fantasies of her heretofore docile husband.
Naturally, she does what any newly liberated woman would do: she takes a match to her life on the prairie and then steps back to survey the wreckage.
Set in the seething political climate of a contentious election,Thisbe Nissen's new novel is sexy, smart, and razor-sharp—a freight train barreling through the heart of the land and the land of the heart.
Praise for Our Lady Of The Prairie
Vanity Fair's "What to Read in February"   "As gripping as it is hilarious...Our Lady of the Prairie captures Nissen's curiosity about the people she has lived around and encountered." —Vanity Fair, "Our Lady of the Prairie, the Novel That Makes Hay of the Recent Political Past"   "Wonderfully witty...A satirical take on the serene Midwestern life and an insightful, comical look at a woman whose life starts to unravel at breakneck speed." —Chicago Review of Books, "The Most Anticipated Fiction Books of 2018"   "Brazen, sexy, and whip smart: We adored this ode to the power and spirit of feisty Midwestern women." —Refinery 29, "The Best Books Of 2018 We Can't Wait To Read This Month"   "While most marriage stories are concerned with the first flush of wedded life, Nissen's new novel, set during the 2004 Bush-Kerry election, skips straight to the end. 'From the moment I saw Lucius Bocelli,' the first sentence reads, 'I wanted to go to bed with him.' One problem: The narrator, 50-year-old Phillipa Maakestad, is already married...[The novel] reveal[s] something that run much deeper and darker than mere extramarital passion." —New York Times Book Review   "Thisbe Nissen's Our Lady of the Prairie is an exploration of what it means to be a levelheaded individual who suddenly has a life that is anything but level. At times it will leave you in stitches, at others, in tears — but it's one hell of a read." —PopSugar, "The 16 Best Books Hitting Shelves in January"   "Nissen excels at capturing her protagonist as a woman on the edge—the elation, the sex, the emotional roller coaster, the questionable choices." —Publishers Weekly    "With humor, grace, and honesty, Nissen's three heroines ride an emotional roller coaster as they reconcile their respective pasts, ride out a turbulent present, and, hopefully, secure a more serene future." —Booklist  "I devoured this novel. It's full of the sweet, crazed, exhausted, love-saturated, tension-flecked bustle of family, and the finely-rendered complexities of intimacy--that vexing, sublime, shape-shifting beast. So much humanity and surprise in this book. It just made my whole being vibrate and hum with the impossible, inevitable business of loving other people." —Leslie Jamison, New York Times bestselling author of The Empathy Exams and The Recovering    "Thisbe Nissen's Our Lady of the Prairie is a Midwestern fever dream, a bold and ambitious look into the roiling emotions of a woman caught between should and could, between I must and I want. I found it funny, angry, hopeful, heartfelt, and above all, honest: about marriage, family, and that old-fashioned, endlessly fascinating thing called desire." —Joshua Ferris, author of Then We Came to the End and The Dinner Party   "Our Lady of the Prairie is a marvel of a book: exuberant, frisky, and fierce. Thisbe Nissen's surprising storytelling is matched only by her ability to conjure such a terrific heroine: a woman brimming with desire and rage, and a need for secrets to step into the light." —Edan Lepucki, author of Woman No. 17&nbs —