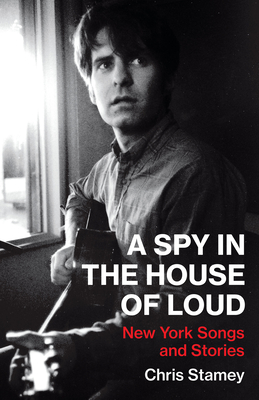 A Spy in the House of Loud: New York Songs and Stories (American Music Series)
Publication Date:
April 15th, 2018
Publisher:
University of Texas Press
Description
Popular music was in a creative upheaval in the late 1970s. As the singer-songwriter and producer Chris Stamey remembers, "the old guard had become bloated, cartoonish, and widely co-opted by a search for maximum corporate profits, and we wanted none of it." In A Spy in the House of Loud, he takes us back to the auteur explosion happening in New York clubs such as the Bowery's CBGB as Television, Talking Heads, R.E.M., and other innovative bands were rewriting the rules. Just twenty-two years old and newly arrived from North Carolina, Stamey immersed himself in the action, playing a year with Alex Chilton before forming the dB's and recording the albums Stands for deciBels and Repercussion, which still have an enthusiastic following.
A Spy in the House of Loud vividly captures the energy that drove the music scene as arena rock gave way to punk and other new streams of electric music. Stamey tells engrossing backstories about creating in the recording studio, describing both the inspiration and the harmonic decisions behind many of his compositions, as well as providing insights into other people's music and the process of songwriting. Photos, mixer-channel and track assignment notes, and other inside-the-studio materials illustrate the stories. Revealing another side of the CBGB era, which has been stereotyped as punk rock, safety pins, and provocation, A Spy in the House of Loud portrays a southern artist's coming-of-age in New York's frontier abandon as he searches for new ways to break the rules and make some noise.
Praise for A Spy in the House of Loud: New York Songs and Stories (American Music Series)
In many ways, the manner of Mr. Stamey's book . . . is comparable to his songwriting style; it's measured and thoughtful; it has imagery and flow with a mixture of intellect and very sophisticated yet never pretentious humor.  It's a book that's warm, fun and deeper than what you may expect. . . Never lightweight but never overbearing, the music of Chris Stamey is a marvel. As is this book. So it would stand you in good stead to pick this book up, read it and then seek out Mr. Stamey's catalog.  It's very easy to embrace it all.
— Rob Ross
Like so many artistically minded young people in the late '70s, a bright, talented 20-something named Chris Stamey followed his muse from his native North Carolina to Manhattan, at that time a near-bankrupt megapolis with a seedy, disreputable downtown that just happened to be giving birth to some of the most exciting and original music of the 20th century. . . While fans will relish the stories of '70s Manhattan, when Stamey collaborated with another young ex-pat named Alex Chilton or popped into his neighborhood bar to catch a new band called Television woodshed some tunes, musicians will appreciate his explanations of how songs come together, how one chord feeds off another or how a chorus can be crafted to complement a verse.
— Jersey Journal
Through happenstance and his own curiosity, Chris Stamey became a player in two blossoming music scenes. . . [his book] captures the zeitgeist of both those scenes with anecdotes and reflections that also serve as a window into his musical evolution.
— Winston-Salem Journal
[Stamey's] book smoothly takes us back to an auteur explosion happening in small NY clubs lead, most notably, by up and coming bands like The Talking Heads. . . a great guided tour of the studio experiences behind each song, with just as many highly articulate insights into the other musicians of the era as his own work. It also portrays a brilliant Southern boy's coming of age in a city of other brilliant talents, where it seemed that every second person he met was as brilliant as himself. The main thing they all had in coming, apart from unique voices, styles and ways of producing electric music, was a fervent desire to break the rules and make some noise.
— Critics at Large
Students of indie-rock history will find Stamey's book loaded with interesting tidbits. . . [he] brings a fair amount of musical analysis, acoustical science, and audio-engineering knowledge to his writing, which will add to the book's appeal for theory nerds and studio rats. . . the stuff can be complex, but his writing is approachable and energetic.
— Yes! Weekly
A vivid, thoroughly lived-through depiction of a time when music mattered greatly and a disaffected minority sought to overthrow the existing pop culture.
— Milwaukee Shepherd-Express
Where most musician autobiographies are fueled by backstage drama, this book focuses almost entirely on the creative process, a choice that not only proves to be compelling but helps turn Stamey's personal journey into a necessary document of peak-era college rock, illustrating how it was a vibrant scene filled with unexpected cross pollination.
— Pitchfork
A Spy In The House of Loud works best on quiet stages, taking singular trips down clearly paved roads with definite endings.
— PopMatters
There's a great warmth to [Stamey's] storytelling that makes this book particularly endearing. . . like you're sitting around with Chris and he's telling you the stories almost in confidence. It's a comfortable voice and the tales aren't particularly tall—they're just human and entertaining and informative.
— Magnet Magazine