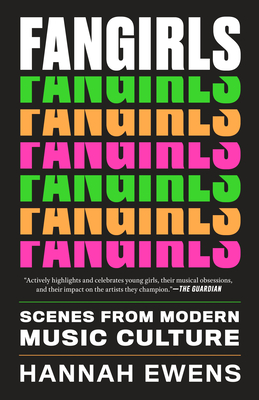 Fangirls: Scenes from Modern Music Culture (American Music Series)
Publication Date:
August 18th, 2020
Publisher:
University of Texas Press
Usually Ships in 3 to 5 Days
Description
"To be a fan is to scream alone together." This is the discovery Hannah Ewens makes in Fangirls: how music fandom is at once a journey of self-definition and a conduit for connection and camaraderie; how it is both complicated and empowering; and how now, more than ever, fandoms composed of girls and young queer people create cultures that shape and change an entire industry.
This book is about what it means to be a fangirl.
Speaking to hundreds of fans from the UK, US, Europe, and Japan, Ewens tells the story of music fandom using its own voices, recounting previously untold or glossed-over scenes from modern pop and rock music history. In doing so, she uncovers the importance of fan devotion: how Ariana Grande represents both tragedy and resilience to her followers, or what it means to meet an artist like Lady Gaga in person. From One Directioners, to members of the Beyhive, to the author's own fandom experiences, this book reclaims the "fangirl" label for its young members, celebrating their purpose, their power, and, most of all, their passion for the music they love.
Praise for Fangirls: Scenes from Modern Music Culture (American Music Series)
Ewens rejects the narrative that her titular subjects are obsessive, hysterical, or unhinged—terms that critics have thrown at female music fans since pop's advent, and that have been used to deride all sorts of passionate women for centuries before that...As a proud fangirl herself, [Ewens] approaches her subjects with empathy, validating the importance of these self-made communities.
— Pitchfork, "Our 15 Favorite Music Books of 2020"
An illuminating, sympathetic, and cautionary celebration of superfans, young and old.
— Kirkus
[A] passionate, smart take...Fangirls—and pop music fans in general—will jump on this adrenaline-fueled tour.
— Publishers Weekly
[Ewens] includes herself among fangirls and is in tune with factors that motivate what to the unaffected may seem like outsize adoration...Anyone who has wondered why someone would bid thousands for a wad of used chewing gum or collect a closetful of an idol's clothing will come away with greater understanding.
— Library Journal
Ewens...traces the history of fandom—from the days of The Beatles until the present—to contextualize what fandom means, how it functions, and how it both reflects and drives cultural conversations about everything from teenage girls to mental health.
— Bitch
An entertaining, in-depth examination of fan subcultures.
— The A.V. Club
Fangirls establishes a loose chronology of fangirling, spotlighting the diversity inherent in the experience and giving space to One Direction, Halsey, Beyoncé, My Chemical Romance, and Amy Winehouse fans in equal measure.
— Jezebel
[A] nuanced approach...Ewens wants to elevate the young girls whose fandom has been ignored, dismissed, or mocked in favor of the older men who are supposed to be the 'real' music experts. Beyond that, though, Ewens want to unpack the many ways that fandom works in the music world...Fangirls reads as an extended essay, but one informed by on-the-ground research with fans of artists from Elvis to Fall Out Boy.
— The Current
The individual voices and profiles [featured in Fangirls] vary as much as the people's tastes—from boy-bands to Beyoncé to Courtney Love—giving fans the space to expand on personal truths like queerness, mental illness, sexual desire, and what it means to find community.
— BUST
Fangirls is a funny and poignant survey of an essential coming-of-age experience, an illuminating read for anyone who's camped out at a venue or purchased all their favorite band's merch.
— The Arts Fuse
The important message of...Hannah Ewens's celebration of Fangirls is that anyone dismissing the members of a screaming mass as drones is likely failing to appreciate what's going on beneath the surface. This multi-generational dive into the experiences, and impact, of fangirls will leave you wanting to join a fandom yourself — or, possibly, to add a new one to your portfolio.
— The Current, "Best music books of 2020"
Compassionate and clear-eyed...By pursuing diversity of thought and expression, [Ewens] gives the reader an insider's look into the shared experience of being a fan from a woman's perspective...Fangirls is an absolute joy to read.
— Bearded Gentlemen Music
Exploring various artists and their fans, [Ewens] shows that these young women are not crazy, but rather their love of music and the connections it can create are what drive much of the industry and its profits...Lovers of and participants in fan culture will find a lot of joy here.
— Booklist
Excellent...Ewens paints a warm picture of female fandoms as communities in which friends look out for each other, both in person and online, and traces the camaraderie that comes from musical obsession, helping young people navigate the messiness and confusion of adolescence.
— The Independent
Fangirls isn't just a book about the many fandoms that exist for different artists. Fangirls is a book that takes the narrative of the 'crazy fan' and turns them into humans. Fangirls is a book about connection, inspiration, community, reflection, grief and sexuality, and how all of these things can be found when answering the question of why someone might be a fan.
— Impose Magazine
This book felt like a therapy session to heal my inner preteen…[Fangirls] is...an enlightening ode to the teenage experience and fan culture. As Ewens' dedication suggests, I recommend it to anyone who has ever found solace in an obsession.
— The Emory Wheel