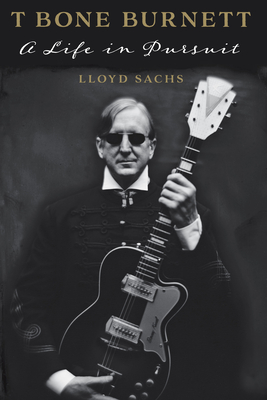 T Bone Burnett: A Life in Pursuit (American Music Series)
Publication Date:
September 13th, 2022
Publisher:
University of Texas Press
Usually Ships in 3 to 5 Days
Description
T Bone Burnett is a unique, astonishingly prolific music producer, singer-songwriter, guitarist, and soundtrack visionary. Renowned as a studio maven with a Midas touch, Burnett is known for lifting artists to their greatest heights, as he did with Raising Sand, the multiple Grammy Award–winning album by Robert Plant and Alison Krauss, as well as acclaimed albums by Los Lobos, the Wallflowers, B. B. King, and Elvis Costello. Burnett virtually invented "Americana" with his hugely successful roots-based soundtrack for the Coen Brothers film, O Brother, Where Art Thou? Outspoken in his contempt for the entertainment industry, Burnett has nevertheless received many of its highest honors, including Grammy Awards and an Academy Award.
T Bone Burnett offers the first critical appreciation of Burnett's wide-ranging contributions to American music, his passionate advocacy for analog sound, and the striking contradictions that define his maverick artistry. Lloyd Sachs highlights all the important aspects of Burnett's musical pursuits, from his early days as a member of Bob Dylan's Rolling Thunder Revue and his collaboration with the playwright Sam Shepard to the music he recently composed for the TV shows Nashville and True Detective and his production of the all-star album Lost on the River: The New Basement Tapes. Sachs also underscores Burnett's brilliance as a singer-songwriter in his own right. Going well beyond the labels "legendary" or "visionary" that usually accompany his name, T Bone Burnett reveals how this consummate music maker has exerted a powerful influence on American music and culture across four decades.
Praise for T Bone Burnett: A Life in Pursuit (American Music Series)
Sachs' fine book is a welcome addition to the living history of American music and a delightful read.
 
— Booklist
A Life in Pursuit is the first bio of the now 68-year-old American and, smartly, author Sachs understands going in that Burnett's story is that of the music he's touched. . . . Rarely has a music biography been this jam-packed with names of artists and the records they've made—Burnett's footprint is enormous and the minutiae of that maze-like career is recounted expansively here. . . . Sachs has created what will likely remain a definitive account.
— MOJO
Sachs artfully weaves together news clips and original interviews to create a valuable context for the musician-producer's work.
— Texas Monthly
In telling this story, Sachs has done roots music a great turn, in fine style.
— Songlines Magazine