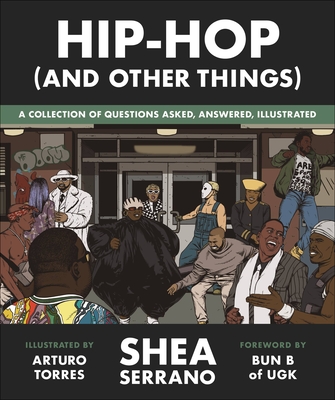 Hip-Hop (And Other Things)
Publication Date:
October 26th, 2021
Chop Suey Books
5 on hand, as of Feb 5 11:11pm
On Our Shelves Now
Description
HIP-HOP (AND OTHER THINGS) is about, as it were, rap, but also some other things. It's a smart, fun, funny, insightful book that spends the entirety of its time celebrating what has become the most dominant form of music these past two and a half decades. Tupac is in there. Jay Z is in there. Missy Elliott is in there. Drake is in there. Pretty much all of the big names are in there, as are a bunch of the smaller names, too.
 
There's art from acclaimed illustrator Arturo Torres, there are infographics and footnotes; there's all kinds of stuff in there. Some of the chapters are serious, and some of the chapters are silly, and some of the chapters are a combination of both things. All of them, though, are treated with the care and respect that they deserve.
 
HIP-HOP (AND OTHER THINGS) is the third book in the (And Other Things) series. The first two—Basketball (And Other Things) and Movies (And Other Things)—were both #1 New York Times bestsellers.
Praise for Hip-Hop (And Other Things)
"This quirky, wide-ranging collection of essays, paired with gorgeous art, is a well-informed love letter to hip-hop."—Kirkus
Praise for Shea Serrano (And His Other Books):
 
"Paging through Serrano's Movies (And Other Things) is like taking a long drive at night with a friend; there's that warmth and familiarity where the chat is more important than the fastest route from Point A to Point B. [Movies] is like a textbook gone right; your attention couldn't wander if it tried. With a foreword by John Leguizamo and afterword by Don Cheadle, movie buffs have no excuse not to lose themselves in this oddball book."
—New York Times
"Shea Serrano's Basketball (And Other Things) is equal parts hilarious and enlightening...this is the ultimate book on basketball fandom."
—NPR
"Even if you're a basketball novice or die-hard Spurs fan like Shea, this is a perfect companion to his Rap Year Book: full of myths, what-ifs, and hyperspecific fanaticism."
—Vulture
"Cleverly written and beautifully illustrated...It's a must for any basketball fan."
—Esquire
"...hilarious and insightful..."
—Men's Journal
"[Shea Serrano is] America's foremost chronicler of pop minutiae."
—Texas Monthly
"Serrano is at his best when relating stories… but all his hip-hop coverage is great fun and his penchant for injecting outright ridiculousness and self-deprecating humor into the mix makes it even better."
 —Booklist Review