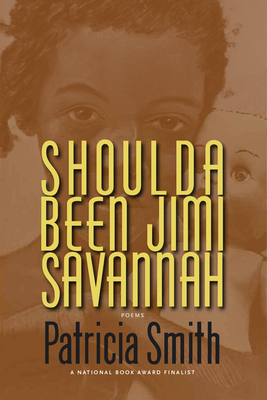 Shoulda Been Jimi Savannah: Poems
Publication Date:
March 27th, 2012
Publisher:
Coffee House Press
Chop Suey Books
2 on hand, as of Nov 29 4:44pm
On Our Shelves Now
Description
Winner of 2013 Wheatley Book Award in Poetry
Finalist for 2013 William Carlos Williams Award
Winner of 2014 Bobbitt National Prize for Poetry
Patricia Smith is writing some of the best poetry in America today. Ms Smith's new book, Shoulda Been Jimi Savannah, is just beautiful--and like the America she embodies and represents--dangerously beautiful. Shoulda Been Jimi Savannah is a stunning and transcendent work of art, despite, and perhaps because of, its pain. This book shines. --Sapphire
One of the best poets around and has been for a long time. --Terrance Hayes
Smith's work is direct, colloquial, inclusive, adventuresome. --Gwendolyn Brooks
In her newest collection, Patricia Smith explores the second wave of the Great Migration. Shifting from spoken word to free verse to traditional forms, she reveals that soul beneath the vinyl.
Patricia Smith is the author of five volumes of poetry, including Blood Dazzler, a finalist for the 2008 National Book Award, and Teahouse of the Almighty, a National Poetry Series selection. She lives in New Jersey.
Praise for Shoulda Been Jimi Savannah: Poems
"Patricia Smith is writing some of the best poetry in America today. Ms Smith's new book, Shoulda Been Jimi Savannah, is just beautifuland like the America she embodies and representsdangerously beautiful. Shoulda Been Jimi Savannah is a stunning and transcendent work of art, despite, and perhaps because of, its pain. This book shines." Sapphire
"Patricia Smith's newest collection, Shoulda Been Jimi Savannah, evokes a sense of history and self-awareness combined with precise storytelling and the most crafted verse. . . . In her current incarnation, we find one of the most authentic voice of Modern American Poetry." Pank Magazine
"Shoulda Been Jimi Savannah is about the Great Migration, when a half million African Americans left the South and moved to Chicago between 1916 and 1970. [S]mith evokes parents and children in the new urban environment." The Pioneer Press
"The people here are so vividly drawn that the reader is deep in their world by the fourth poem of the book, and what a rich, many-layered world Smith creates, full of passion, struggle, and a fierce and vivid surviving, behind which, all 'swerve and pivot,' all 'languid, liquid, luscious' is Motown. . . . Smith's poems are their own powerful music." Mead Magazine
"Welcome to a place of hopes and dreams punctured with rawness and pain. Patricia Smith's autobiographical epic is cinematic in scale yet music box in intimacy. . . . Smith compresses culture 'til it peals like crystallike singing light." The Brooklyn Rail
"Smith is a powerhouse poet. Her poems are as tightly constructed as masonry, yet they are quick-footed, spinning, singing, funny, and heartbreaking. . . . Smith's immediate, deeply compassionate, magnificently detailed narrative poems of one young woman's complicated coming-of-age embody the sorrows, outrage, and transcendence of race-bedeviled, music-redeemed twentieth-century America." Booklist