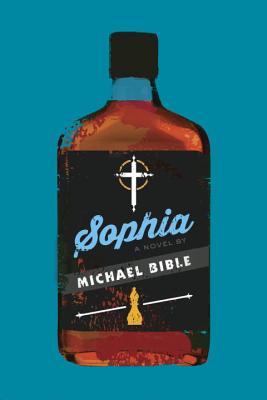 Sophia
Publication Date:
December 8th, 2015
Publisher:
Melville House
Chop Suey Books
1 on hand, as of Jan 28 5:03pm
On Our Shelves Now
Description
"You'll smile with joy turning every page." —Barry Hannah
 
Reverend Maloney isn't the world's greatest spiritual advisor. He drinks gin out of his coffee cup and has sex dreams about the Holy Ghost. His best friend Eli isn't perfect either, but he's a chess genius, so Maloney sees an opportunity in traveling around the country so Eli can win major chess tournament after chess tournament (while Maloney pockets Eli's winnings).
 
Chased by a blind headhunter named Jack Cataract, the Reverend, his girlfriend, and Eli race across North America and around New York City, from Washington Square Park to a jetski ride to the great green gown of Lady Liberty.
 
In this uproariously funny, unabashedly sexy, and highly-anticipated novel, Michael Bible delivers a devastating story about the American South, chess tournaments, and one debaucherous reverend's struggle with spirituality. In the spirit of Nicholson Baker and Barry Hannah, Sophia is an adventure with a raunchy and obviously flawed cast of characters, written with enormous heart.
Praise for Sophia
"Poetic and with flashes of brilliance...If Sophia is any indication, we have a promising new writer here, who, like his main character, might be on a pilgrimage of his own."
—NPR
"Yes, the spirit of Barry Hannah resides in Sophia, but, as Reverend Maloney so eloquently puts it, 'Now is now and then was then.' Bible's talent is such that he knows how to take scripture and bend and twist it into something that can exist in both heaven and hell. This is an ecstatic novel, and Bible is a fantastic writer." 
—Kevin Wilson, author of The Family Fang
"Most contemporary fiction makes me wonder why people try to write anymore. Michael Bible helps me remember why." 
—Blake Butler, author of Three Hundred Million
"Michael Bible's Sophia is a real howl of a book. It will drill holes inside your head and then fill them with a rushing pop of words. It's a wild journey from the deep south to New York City, with detours for chess tournaments, sexual escapades, and encounters with the holy ghost along the way. There's a lot of pain inside this book, too, but don't worry: you'll enjoy it."
—Scott McClanahan, author of Crapalacia
"Sophia is a whirlwind…[it] arrives in fast, crisp sentences: first-person narrated, increasingly surreal vignettes that follow the misadventures of Reverend Alvis Maloney. He might have been a Flannery O'Connor character if there had been someone to pray for him every minute of his life. …Bible is a real talent."—The Millions
"Amid the sharp, laconic prose that its structure facilitates, Bible emerges as one of the most interesting and exciting new novelists in years...superbly written...a rich yet entirely unpretentious debut that, just as its conclusion marks a promising new start for its cast, marks a very promising start for its author."
—Electric Literature
"[Bible's] short, comic novel, which relates a bibulous Southern preacher's perverse quest for sainthood, is full of small miracles."
—Publishers Weekly, starred review
"Bible delivers an elliptical, provocative novella about the profane and the spiritual, all of it drenched in sweat, sex, and booze."
—Kirkus Reviews
Praise for Cowboy Malone's Electric City
 
"It's Hunter S. Thompson and William Burroughs on a road trip, high on peyote, their hearts broken, Denis Johnson looking to get naked in the sand . . . You slow down for a moment, and enter the nostalgic world that Michael Bible has created and wonder if there is any way to stay there."
—The Nervous Breakdown