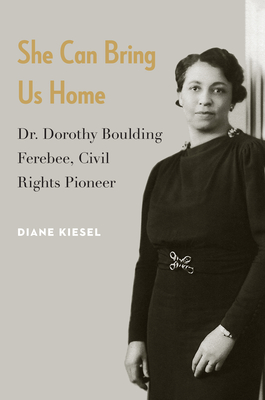 She Can Bring Us Home: Dr. Dorothy Boulding Ferebee, Civil Rights Pioneer
Publication Date:
August 15th, 2015
Chop Suey Books
1 on hand, as of Feb 8 9:12pm
On Our Shelves Now
Description
Long before it became the slogan of the presidential campaign for Barack Obama, Dorothy Ferebee (1898–1980) lived by the motto YES, WE CAN. An African American obstetrician and civil rights activist from Washington DC, she was descended from lawyers, journalists, politicians, and a judge. At a time when African Americans faced Jim Crow segregation, desperate poverty, and lynch mobs, she advised presidents on civil rights and assisted foreign governments on public health issues. Though articulate, visionary, talented, and skillful at managing her publicity, she was also tragically flawed.
Ferebee was president of the Alpha Kappa Alpha black service sorority and later became the president of the powerful National Council of Negro Women in the nascent civil rights era. She stood up to gun-toting plantation owners to bring health care to sharecroppers through her Mississippi Health Project during the Great Depression.
A household name in black America for forty years, Ferebee was also the media darling of the thriving black press. Ironically, her fame and relevance faded as African Americans achieved the political power for which she had fought. In She Can Bring Us Home, Diane Kiesel tells Ferebee's extraordinary story of struggle and personal sacrifice to a new generation.
Praise for She Can Bring Us Home: Dr. Dorothy Boulding Ferebee, Civil Rights Pioneer
"Kiesel is a fine writer. . . . [Her] reporting on and writing about Boulding [Ferebee] will cause you to reflect about where this country has been and the directions in which it has been going. . . . The author's painstaking research and clear narrative style does her subject justice.  It is an engaging and enjoyable read."—Laura Ward, New York Law Journal
"A monumental work. . . . She Can Bring Us Home expertly recovers the life of this forgotten giant in advocacy of civil rights, health care, women's rights, and educational equality."—Cassandra Newby-Alexander, Virginia Magazine
"She Can Bring Us Home is an engaging study of an African American woman physician whose deserves to be better known in medical history."—Susan L. Smith, Journal of the History of Medicine
"An anomaly in her own time, the ambitious, professionally successful Ferebee might have felt more at home in the 21st century, when her ideals of racial and gender equality, as well as her struggles to balance work and family, resonate more broadly in our culture. Kiesel does readers a great service by revealing the struggles and triumphs of this remarkable woman."—Chris Myers Asch, Washington History
"She Can Bring Us Home is a impressive biography of Dorothy Ferebee. Readers will learn much not only about Dr. Ferebee's life, but also about the era in which she lived."—Debra Newman Ham, Journal of African American History
"This lovingly crafted biography brings to life the remarkable tale of a powerful but overlooked twentieth-century advocate for women and racial equality. Born at the end of the nineteenth century, the descendant of slaves who fled to Boston, Dorothy Ferebee took her Tufts Medical School diploma to the nation's capital to serve the neglected needs of African Americans living in poverty. . . . In Judge Diane Kiesel's capable hands, Ferebee's life as a national civil rights leader is given long-overdue recognition."—James McGrath Morris, author of Eye on the Struggle: Ethel Payne, the First Lady of the Black Press    
"Dorothy Ferebee—ground-breaking physician, civil rights champion, feminist advocate—was a legend in her own time but is largely unknown in ours. Now Diane Kiesel brings alive this extraordinary woman whose private life was as tortured and heartbreaking as her public persona was exemplary and heroic. A compulsively readable exploration of the price women pay for greatness."—Ellen Feldman, author of The Unwitting and Scottsboro  
"This meticulous account of the life of one of twentieth-century America's most influential African American women, a doctor whose contributions to public health, civil rights, and women's reproductive freedom were vast, is long overdue. . . . In this engrossing work of investigative biography Diane Kiesel reveals that success was achieved at great personal cost and masked a secret tragedy."—Nina Burleigh, author of The Fatal Gift of Beauty: The Trials of Amanda Knox