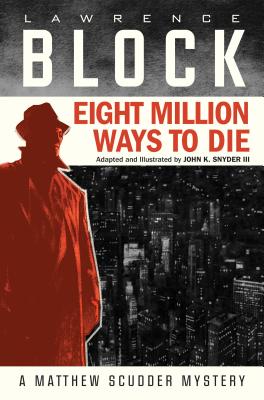 Eight Million Ways to Die (Graphic Novel)
Publication Date:
July 17th, 2018
Publisher:
IDW Publishing
Chop Suey Books
1 on hand, as of Feb 4 11:13pm
On Our Shelves Now
Description
In crime-ravaged 1980s New York, a troubled ex-cop turned unlicensed detective takes on his most dangerous case, hunting down a serial killer-hitman, and ultimately coming face-to-face with his deadliest enemy, himself, in this graphic novel adaptation of the book by Lawrence Block.
Matthew Scudder is dying, one bottle at a time. A young prostitute named Kim Dakkinen is dying too, her life measured out in tricks. She wanted out, had asked for Scudder's help, but suddenly she wasn't dying anymore, she was just dead. The former cop turned P.I. promised to protect her, but he failed. Now his atonement is to find her killer. But the secrets in the dead hooker's past are dirtier than her living, and searching for a killer in a city where everyone's a victim is a good way to make the role permanent.
Steeped in traditional pulp, Block's writing has a true gift for capturing the art of conversation between his characters. These are the lowlifes of society, for whom Block occasionally finds redemption, but who are more often among the vilest beings in human existence. Snyder's art both encapsulates and elevates these rough-cut gems in a graphic, grainy, and moody setting that evokes the dark, noir magazine covers of the period.
This is the first graphic novel adaptation of world-renowned writer Lawrence Block's work and features an introduction from Block himself. The highly detailed, full-color artwork from John K. Snyder III perfectly complements the noir aesthetic of Block's writing, making this a must have for fans of crime fiction, both in prose and graphic novel form.
"Snyder's adaptation of Block's novel makes for a skillfully realized graphic narrative." -Publishers Weekly
Praise for Eight Million Ways to Die (Graphic Novel)
"This is one you're going to want to get your hands on." –CrimeFictionLover.com
"There just aren't that many creators with this much experience under their belts who are still elevating their game. Snyder isn't just coasting on past glories; he's delivered a masterpiece of crime fiction." –J.C. Vaughn, PreviewsWorld
"A skillfully realized graphic narrative… The artwork, with thick outlines and muted color splashes, recalls noir film stills as it grounds the story in gritty, period-accurate realism while evoking the kind of squalid urban purgatory depicted in period pieces such as Taxi Driver. This moody feast will appeal to fans of classic crime fiction." –Publishers Weekly