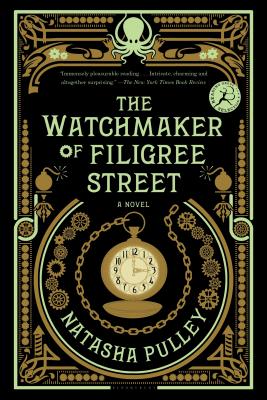 The Watchmaker of Filigree Street
Publication Date:
May 3rd, 2016
Publisher:
Bloomsbury USA
Usually Ships in 3 to 5 Days
It takes a special talent to have a reader truly suspend disbelief, but Pulley succeeds spectacularly well in this debut. In 1880s London, Thaniel Steepleton is a telegraphist whose life is saved by a very timely pocket watch. When he meets its maker, Keita Mori, his entire life is upended and made more beautiful -- and dangerous. The clock is ticking on this new friendship, and Thaniel must use his ingenuity and previously untapped bravery to save Keita's life and his own future. Fans of David Mitchell and Erin Morgenstern will be intrigued, and I think it's safe to say that we can expect great things from Pulley.
August 2015 Indie Next List
Description
1883. Thaniel Steepleton returns home to his tiny London apartment to find a gold pocket watch on his pillow. Six months later, the mysterious timepiece saves his life, drawing him away from a blast that destroys Scotland Yard. At last, he goes in search of its maker, Keita Mori, a kind, lonely immigrant from Japan. Although Mori seems harmless, a chain of unexplainable events soon suggests he must be hiding something. When Grace Carrow, an Oxford physicist, unwittingly interferes, Thaniel is torn between opposing loyalties.
The Watchmaker of Filigree Street is a sweeping, atmospheric narrative that takes the reader on an unexpected journey through Victorian London, Japan as its civil war crumbles long-standing traditions, and beyond. Blending historical events with dazzling flights of fancy, it opens doors to a strange and magical past.
Praise for The Watchmaker of Filigree Street
"Humor, wit, mystery and danger are threaded through the book in musical measure. It dances between genres and makes partners of several: one could call it steampunk for its Victoriana and etheric experimentation, science fiction for its musings on determinism, historical fantasy for the ways in which those elements are seamlessly blended with late 19th century London . . . A delightful, relentlessly charming and deeply moving book . . . Remarkable." —Los Angeles Times
"Assured and absorbing . . . immensely pleasurable reading. Pulley's prose is strong and energetic, with a wry edge, and even the most minor characters are drawn precisely . . . The Watchmaker of Filigree Street might be compared to one of Mori's clockwork birds: intricate, charming and altogether surprising." —The New York Times Book Review
"Enchanting . . . Amid this thriller-like plot, Pulley raises thought-provoking questions about free will, fate and identity--making for a rich brew of historical fantasy, philosophy and emotion." —Washington Post
"Winsome, atmospheric . . . transportive . . . [Mori causes] the reader to ponder fate vs. self-determination and duty vs. self-fulfillment in this diverting and original first novel." —Dallas Morning News
"Elegant plotting, lashings of invention and jump-off-the-page characterization . . . How their stories combine, and how Pulley juggles the complex plot and throws in multiple surprises, are but two of the many delights of a first novel that has been garnering a lot of attention. The Watchmaker of Filigree Street is a charming and quietly profound disquisition on predestination, chance and fate." —The Guardian
"Electrifying . . . a triumph of speculative fiction. It captures the frenetic energy of a world undergoing extraordinary changes . . . Pulley expertly employs the tools of mystery and fantasy to examine the social pressures faced by the marginalized . . . The heart of the story is the universal human quest for acceptance, understanding, and love." —starred review, Publishers Weekly
"A fresh and surprising philosophical adventure . . . This is more than just a well-paced, atmospheric mystery with elements of fantasy . . . Clever and engaging, this impressive first novel will reward both casual readers looking for a fun period adventure and those fascinated by the tension between free will and fate." —starred review, Kirkus
"Natasha Pulley's novel borrows from steam-punk in its fetishizing of unlikely Victorian technology. This polished debut has gothic overtones, too." —The Times
"Pulley's imaginative first novel transports readers to a Victorian London teeming with danger and magic . . . [She] mixes steampunk and intrigue with paranormal elements in this wholly original debut." —Booklist
"A unique blend of historical fiction and magical realism about the inextricable relationships between three people, a watch with magical powers and a clockwork octopus. This is ideal escapist holiday reading, your imagination will run riot." —Irish Tatler
"A remarkably assured first novel . . . Natasha Pulley turns this wild mix into a tale as elegant as one of the master watchmaker's creations, for a debut that's fast-paced, suspenseful, and curiously convincing." —LOCUS
"[A] masterful steampunk/mystery/historical fiction debut . . . A thrilling tale that sweeps readers into a dark and magical past . . . Pulley's novel grounds itself in historical accuracy and exquisite prose, and even genre-adverse readers will be hooked." —Bustle
"A clever detective story, a thrilling steampunk adventure and a poignant examination of the consequences of class warefare and English, Irish and Japanese nationalism in the 19th century." —Bookpage
"Part steampunk . . . part Sherlock, and part alternate history, historical fantasy, and/or speculative fiction . . . Clever and original." —Historical Novel Society
"Historical fiction, magic realism and elements of gothic fiction combine in this ambitious debut . . . This is accomplished writing from Natasha Pulley, whose imagination shines through in the myriad plot strains and the way they are brought together." —Irish Times
"Ten out of ten." —The Spectator
"A story as intricately plotted and as beautifully crafted as the most accurate timepiece." —The Independent on Sunday