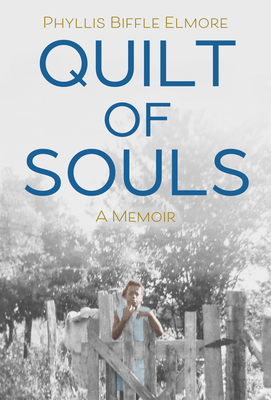 Quilt of Souls: A Memoir
This product is not returnable.
Publication Date:
November 8th, 2022
Chop Suey Books
3 on hand, as of Feb 8 9:12pm
On Our Shelves Now
Description
The Yellow House meets Hidden in Plain View in this multigenerational memoir that celebrates African American quilting, family, and honoring the past.
At age four, Phyllis Biffle Elmore was plucked off her front porch in Detroit and dropped on her grandmother Lula Horn's doorstep in rural Alabama. Phyllis felt utterly abandoned until Grandma Lula showed her both all-encompassing love and her intricate "Quilts of Souls." Phyllis listened intently as Lula told epic stories of folks who had passed on as she turned their clothing into breathtaking quilts for their families.
Grandma Lula's generosity of spirit, strong will, and creative soul animate every page and through the quilts, she paints portraits of extraordinary Black women born before and after the Civil War. They are enslaved people, laundresses, storytellers, healers, and quilters whose stories have gone untold until now.
Beautifully written and brilliantly told, Phyllis weaves back and forth through time, piecing together true tales of racism, sexism, and colorism, but also strength and pride, creating a multigenerational patchwork honoring her family and ancestors. From the lush visuals to the powerful history, Quilt of Souls is oral tradition written and preserved for posterity.
"Like the women of Gee's Bend, Alabama, who create masterpieces from cast-off fabrics, Phyllis Biffle Elmore in Quilt of Souls: A Memoir uses snippets of history and fragments of memories to craft a narrative that is a powerful and poignant read."
–Jessica B. Harris, New York Times best-selling author of High on the Hog
"A fascinating read that unravels how storytellers are born and made, with the goal or retelling family history, culture, loves, losses, victories, and the tragedies of memoerable people, from cradle to grave."
–Omar Tyree, best-selling author and NAACP Image Award winner

Praise for Quilt of Souls: A Memoir
At four years old, Elmore was uprooted from her home in Detroit and sent to live with her grandparents in rural Alabama. Feeling abandoned, she slowly came out of her shell, coaxed by Grandma Lula's undying love and the stories her grandmother pieces together in quilts from the clothing of people who have died—women in the rural South before and after the Civil War, healers, teachers, laundresses, enslaved people, and others whose stories and lives have been hidden and often forgotten. Elmore connects the lives of the individuals throughout history in this work that highlights the impact of racism, sexism, and colorism on American history and in the lives of women like Lula. The author's personal connection makes this memoir a powerful one that sheds light on strength, perseverance, and pride in the day-to-day lives of Black women.
VERDICT A testament to her grandmother and the women who made an impact on her childhood, Elmore's text is an ideal choice for readers interested in memoir and history, plus stories about Black women, feminism, and quilting.
—Library Journal