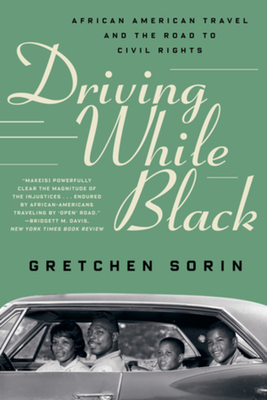 Driving While Black: African American Travel and the Road to Civil Rights
Publication Date:
December 29th, 2020
Usually Ships in 3 to 5 Days
Description
Bloomberg • Best Nonfiction Books of 2020: "[A] tour de force."
The basis of a major PBS documentary by Ric Burns, this "excellent history" (The New Yorker) reveals how the automobile fundamentally changed African American life.
Driving While Black demonstrates that the car—the ultimate symbol of independence and possibility—has always held particular importance for African Americans, allowing black families to evade the dangers presented by an entrenched racist society and to enjoy, in some measure, the freedom of the open road. Melding new archival research with her family's story, Gretchen Sorin recovers a lost history, demonstrating how, when combined with black travel guides—including the famous Green Book—the automobile encouraged a new way of resisting oppression.
Praise for Driving While Black: African American Travel and the Road to Civil Rights
Make[s] powerfully clear the magnitude of the injustices and harrowing encounters endured by African-Americans traveling by 'open' road, as well as of their quiet acts of rebellion and protest, which went far beyond having to find alternative places to eat, sleep and buy gas…. Deeply researched… Driving While Black is more focused on the history of African-American car ownership and travel, exploring why both have been so important to African-American life.... A scholarly examination of the history of black mobility in this country from the antebellum period to now, including the ongoing quest by whites in power to deny or restrict that mobility.
— Bridgett M. Davis, New York Times Book Review
I'd never given much thought to how the ability of Black families to afford cars and go places influenced the course of history. Sorin weaves together gruesome tales of Black accident victims, the way Black affluence led corporations to try to profit from integration, and much more.... [A] tour de force.
— Stephen L. Carter, Bloomberg, "Best Nonfiction Books of 2020"
Driving While Black is a marvel. It is the work of a brilliant mind and a beautiful heart. Sorin, a professor at State University of New York at Albany, dazzles with plain language. She writes in a way that academics and laypersons will both admire. Sorin combines impeccable, exhaustive research and personal stories with a seamless elegance, somehow managing to hold the object under examination far enough away to consider it fully and close enough to really inhabit it.
— Michael Kleber-Diggs - Minneapolis Star-Tribune
This excellent history illuminates how car ownership provided a measure of safety and independence and also played a vital role in the civil-rights movement.
— New Yorker
The sweeping story of African Americans and automobiles—a tale of mobility and mobilization that helped fuel the Civil Rights Movement.
— Erin Blakemore, Smithsonian
A riveting story on how the automobile opened up opportunities for blacks in the U.S…. In Sorin's work, her prose and talent for turning examples into captivating stories prevent the book from being a mere sociological study of how black travel changed the nation. Instead, she blends her own family's history, and those who experienced the black travel revolution, to make the book enjoyable and noteworthy since it shows how the changes ushered in civil rights.
— Russell Contreras, Associated Press
Lucidly written and generously illustrated with photos and artifacts, this rigorous and entertaining history deserves a wide readership.
— Publishers Weekly [starred review]
Driving While Black also chronicles the rise of car culture in tandem with rock 'n' roll music (Chuck Berry loved his Cadillacs), as well as the vast network of black-friendly establishments outlined in the popular Green Book. Feeling gassed up yet? Grab this book to-go and get to reading.
— Matt Gifford, BookPage
Sorin's engaging account of black motoring exposes a rough road in race relations but also a technology's impact on black freedom. A great resource for people learning about black freedoms—and the fragility of those freedoms—in the automobile era and during the civil rights movement.
— Library Journal
An eye-opening history of the terrible discrimination practiced routinely against African American drivers. . . [A] powerful story. . . The author provides an in-depth look at the significance of Victor Green's (literally) lifesaving The Green Book. . . A pleasing combination of terrific research and storytelling and engaging period visuals.
— Kirkus Reviews
Gretchen Sorin has spent decades exploring this deeply researched, acutely felt, and penetrating study of race, space, and mobility in America—and a lifetime thinking about the issues and experiences that underlie it. No one who reads Driving While Black can fail to be moved and wonderstruck by how far American society has come in the last century and a half in forwarding the dream of equal mobility for all, and by how far we still have to go.
— Ric Burns, documentary filmmaker
With chronological sweep and intimate detail, Gretchen Sorin takes us on an unsettling road trip, showing us how African American travelers met with indignities, discrimination, and violence, and how they fought for their basic dignity. From the famous Green Book to black-run lakeside resorts, Sorin offers a powerful revision of the romance of roadside Americana.
— Thomas J. Sugrue, author of Sweet Land of Liberty: The Forgotten Struggle for Civil Rights in the North
Driving While Black is painful, poignant, and powerful. White America cannot imagine being unwelcomed and unwanted in stopping for a meal or a motel room on a long trip. But the fact is that this was for decades the harsh reality for millions of our fellow citizens. Through compelling and extensive interviews, illustrations, and evidence, Gretchen Sorin has meticulously documented yet another disturbing aspect of racism in our national life.
— Kenneth T. Jackson, Barzun Professor of History, Columbia University
This is the first authoritative book about the actual social, economic, and political history of African-Americans and cars. Sorin's accessible style invites the reader see how the open road looked from black people's points of view. Interspersed with anecdotes and family stories, her history is authoritative, pungent, and personal. This volume is a ground-breaking roadmap of the black experience behind the wheel.
— Fath Davis Ruffins, Curator, National Museum of American History