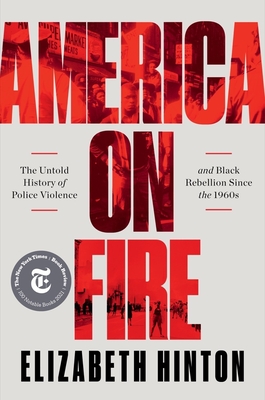 America on Fire: The Untold History of Police Violence and Black Rebellion Since the 1960s
Publication Date:
May 18th, 2021
Chop Suey Books
3 on hand, as of Nov 26 5:11pm
On Our Shelves Now
Description
A New York Times Notable Book
Best Books of 2021: TIME, Smithsonian
New York Times Book Review • Editors' Choice
"Not since Angela Davis's 2003 book, Are Prisons Obsolete?, has a scholar so persuasively challenged our conventional understanding of the criminal legal system." —Ronald S. Sullivan, Jr., Washington Post
From one of our top historians, a groundbreaking story of policing and "riots" that shatters our understanding of the post–civil rights era.
What began in spring 2020 as local protests in response to the killing of George Floyd by Minneapolis police quickly exploded into a massive nationwide movement. Millions of mostly young people defiantly flooded into the nation's streets, demanding an end to police brutality and to the broader, systemic repression of Black people and other people of color. To many observers, the protests appeared to be without precedent in their scale and persistence. Yet, as the acclaimed historian Elizabeth Hinton demonstrates in America on Fire, the events of 2020 had clear precursors—and any attempt to understand our current crisis requires a reckoning with the recent past.
Even in the aftermath of Donald Trump, many Americans consider the decades since the civil rights movement in the mid-1960s as a story of progress toward greater inclusiveness and equality. Hinton's sweeping narrative uncovers an altogether different history, taking us on a troubling journey from Detroit in 1967 and Miami in 1980 to Los Angeles in 1992 and beyond to chart the persistence of structural racism and one of its primary consequences, the so-called urban riot. Hinton offers a critical corrective: the word riot was nothing less than a racist trope applied to events that can only be properly understood as rebellions—explosions of collective resistance to an unequal and violent order. As she suggests, if rebellion and the conditions that precipitated it never disappeared, the optimistic story of a post–Jim Crow United States no longer holds.
Black rebellion, America on Fire powerfully illustrates, was born in response to poverty and exclusion, but most immediately in reaction to police violence. In 1968, President Lyndon Johnson launched the "War on Crime," sending militarized police forces into impoverished Black neighborhoods. Facing increasing surveillance and brutality, residents threw rocks and Molotov cocktails at officers, plundered local businesses, and vandalized exploitative institutions. Hinton draws on exclusive sources to uncover a previously hidden geography of violence in smaller American cities, from York, Pennsylvania, to Cairo, Illinois, to Stockton, California.
The central lesson from these eruptions—that police violence invariably leads to community violence—continues to escape policymakers, who respond by further criminalizing entire groups instead of addressing underlying socioeconomic causes. The results are the hugely expanded policing and prison regimes that shape the lives of so many Americans today. Presenting a new framework for understanding our nation's enduring strife, America on Fire is also a warning: rebellions will surely continue unless police are no longer called on to manage the consequences of dismal conditions beyond their control, and until an oppressive system is finally remade on the principles of justice and equality.
Praise for America on Fire: The Untold History of Police Violence and Black Rebellion Since the 1960s
[A] groundbreaking, deeply researched and profoundly heart-rending account of the origins of our national crisis of police violence against Black America…. America on Fire is more than a brilliant guided tour through our nation's morally ruinous past. It reveals the deep roots of the current movement to reject a system of law enforcement that defines as the problem the very people who continue to seek to liberate themselves from racial oppression. In undertaking this work, Hinton achieves something rare. She deploys scholarly erudition in the service of policy transformation, propelled by Black voices whose hitherto untold stories of protest add much-needed sustenance to America's collective imagination.
— Peniel E. Joseph, New York Times Book Review, cover review
Hinton compiles a breathtaking list of more than a thousand uprisings, far beyond those with which we are most familiar . . . Hinton is not just recovering Black resistance; she is also exposing a long, and ignored, history of white political violence, used to maintain the subordinated status of Black communities . . . In some of the most powerful parts of America on Fire, Hinton systematically unravels the failures of police reform.
— Keeanga Yamahtta-Taylor - The New Yorker
Not since Angela Davis's 2003 book, Are Prisons Obsolete?, has a scholar so persuasively challenged our conventional understanding of the criminal legal system. To be clear, Hinton does not think she's merely engaged in an academic exercise to 'reframe' narratives or 'recharacterize' norms. Her work is far more consequential. She offers in America on Fire a vivid description of historical events. She provides an account — as her subtitle suggests — of an 'untold' story. Hinton tells this story with clarity, and her conclusions should serve as a wake-up call to policymakers. She charts a course to move beyond rebellions. The question, however, is whether the United States has the political will to do it.
— Ronald S. Sullivan Jr. - Washington Post
America on Fire illustrate[s] the origins and legacies of the rebellions that sprang from police incursions in Black life. Hinton demonstrates that these rebellions against state repression, and the reactions of the state to the violence, express a cyclical, concentric process. . . . Hinton's trenchant study… proposes that African Americans may not be able to free themselves without mixing nonviolent resistance and aggressive rebellion. . . . America on Fire closes with a 'Timeline of Black Rebellions;' those 25 pages correct any claims that the uprisings we've witnessed in America since Ferguson in 2014 are either new or over.
— Walton Muyumba - Boston Globe
[A] gift to organizers and activists. It is more than just a historical book. It is political education.
— Derecka Purnell - Boston Review
Hinton's passionate, occasionally gritty approach is the opposite of a gauzy PBS series: she drills down into the granular, highlighting the courageous men and women who stood tall in a hail of bullets.
— Oprah Daily, "Best Books to Pick Up This May"
Few historians are defter at helping us make sense of our present than Elizabeth Hinton. . . . What emerges most clearly across the whole of the book is an urgent history of today. . . . To anyone in disbelief over the American fires of 2020 and 2021, America on Fire demonstrates why last year's rebellions were not unbelievable. They were an entirely believable—perhaps predictable, even—product of the failures by this country and its government to confront and eliminate the many forms of violence it has reaped upon Black America.
— Simon Balto - The Metropole
[Hinton's] retelling of this era of Black rebellion shatters the false equivalency that pundits so often implicitly draw between the state's violence against Black people and the violence involved in Black insurgency . . . One of the most moving elements of Hinton's text...is that it leaves readers reeling from the litany of evidence of anti-Black police violence and the shortcomings of liberal reform with a clear sense of what can be done instead.
— Charlotte Rosen - Cleveland Review of Books
A must-read for all concerned with civil rights and social justice in modern America.
— Kirkus Reviews, starred review
Hinton masterfully examines multiple incidents across the country, illustrating not only the prevalence of rebellions but how ongoing violent racial discrimination is horrifically common. As Hinton links the history of rebellion to the Black Lives Matter protests in 2020, readers will be struck by the generational echoes of Black Americans' struggle for justice.
— Laura Chanoux, Booklist, starred review
This penetrating and incisive account of Black rebellion is based on extensive primary research... Readers interested in social movements in the United States, past or present, will not want to miss this illuminating work.
— Chad E. Statler, Library Journal, starred review