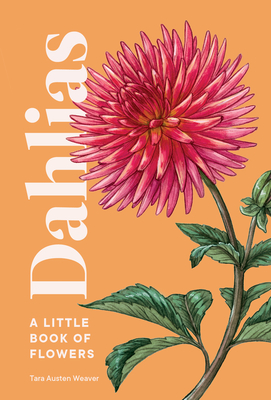 Dahlias: A Little Book of Flowers
Publication Date:
February 1st, 2022
Publisher:
Sasquatch Books
Usually Ships in 3 to 5 Days
Description
"Delightful…Next time you are lucky enough to be someone's houseguest, consider arriving with a bouquet of either one of the Little Book of Flowers."-The New York Times
Dahlias are the showboats of the flower world—colorful, flamboyant, and spectacular. They're also one of the most satisfying flowers to grow, with a long season, plentiful blooms, and adaptable to most climates with proper care. They're very easy to propagate, and can be hybridized. There are numerous dahlia flower forms and more than 50,000 recognized cultivars! This charming little hardcover book includes 60+ full-color botanical illustrations, basic botany and history, everything you need to know to grow gorgeous blooms in the garden, as well as dividing tubers to propagate more flowers, tips for creating beautiful arrangements and preserving flowers, quotes, lore, and notable gardens and growers. Like a bouquet of dahlias, this book is an affordable little luxury for gardeners and flower lovers --the perfect hostess gift or mother's day present. Perfect for flower fans, this little love letter to the dahlia is bursting with tips, tricks and facts.
Praise for Dahlias: A Little Book of Flowers
"Next time you are lucky enough to be someone's houseguest, consider arriving with a bouquet of either one of the Little Book of Flowers. . . Each book includes snappy discussions of the origins of the species, cultivation techniques and suggestions for display. The charm lies in Poole's art. . . there's a distinctly retro appeal to the watercolors here, which slow you down to linger over crinkled petals and bombshell flower heads. These books don't pretend to be encyclopedic; rather, Weaver is discerning in her choices."
—New York Times
"In 'A Little Book of Flowers,' a new series of single bloom titles, author Tara Austen Weaver weaves together basic botany and culture. Each posey-size volume reads like a very smart love letter to cultivating beauty. . . Charming illustrations by Emily Poole and numerous quotes tug at our horticultural heartstrings, while a serviceable glossary and resource section at the back of each book indulge our yearning to grow more flowers and deepen our knowledge of the natural world."
—Seattle Times, Pacific NW Magazine