Staff Pick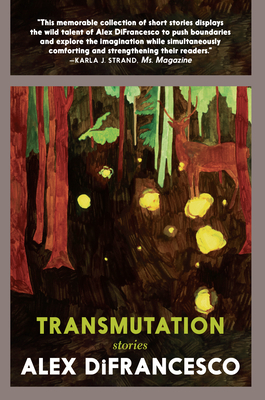 Transmutation: Stories
Publication Date:
June 22nd, 2021
Publisher:
Seven Stories Press
Chop Suey Books
2 on hand, as of Feb 1 3:12pm
On Our Shelves Now
Description
Transgressive, transformative short stories that explore the margins of trans lives.
Building on the success of All City, here is a wry, and at the same time dark and risk-taking, story collection from author (and baker) Alex DiFrancesco that pushes the boundaries of transgender awareness and filial bonds. Here is the hate between 16-year-old Junie, who is transitioning, and their mom's boyfriend Chad when the family moves into Chad's house on Lake Erie. And here is the love being tested between Sawyer and his dad, who named his boat after his child and resists changing it from Sara to Sawyer now. There is DiFrancesco's willingness to enter lands that are violent and comfortless in some of these stories, testing the limits of what it means to be human, sometimes returning stronger and wiser and sometimes not returning at all as their characters surge forward into unknown spaces.
DiFrancesco's first novel All City (Seven Stories 2019) was praised by Publishers Weekly as a "loving, grieving warning [that] thoughtfully traces the resilience, fragility, and joy of precarious communities in an immediate, compassionate voice." All City was one of BookRiot's "Best Post-Apocalyptic Books of 2019," Entropy Mag's "Best of 2019," and Largehearted Boy's "Favorite Novels of 2019." It was a finalist for the 2019 Ohioana Book Award for Fiction.
Praise for Transmutation: Stories
"Alex DiFrancesco's eclectic, absorbing first collection, Transmutation, captures moments of in-betweenness (often fraught, sometimes magical) that may be especially familiar to transgender people who are not legible, temporarily or purposefully, to others or themselves... Within these direct, straightforward stories are corridors of solitude and reflection... Unlike with the cool remove of, say, Rachel Cusk's fiction, DiFrancesco clearly is not afraid to err on the side of sentimentality... At the affective core of "Transmutation" is the question of how we can offer shelter for one another's pain, real and imagined."
—Patrick Cottrell, The New York Times Book Review
"Whether injecting lake water into their leg to conjure a swamp thing, using a reusable metal straw to suck up the air around an irrelevant professor, or dealing with the health concerns specific to vampires, the characters in Transmutation are tender and real. The presence of fantastical elements is part of the magic of these 10 stories, which are linked thematically by the changeable nature of the body. DiFranceso's alchemy is that every story reveals someone who is realizing a new version of themselves."
—Wendy J. Fox, Buzzfeed
"Transmutation is an eerie darling of a collection. Alex DiFrancesco has written stories here that are so unearthly they feel as if they have gossamer wings, characters lifting off the page to hold court in startling three-dimensional life. Some playful, some terrifying, all crafted with care—Transmutation is the kind of story collection that will stick with you for days after reading. DiFrancesco is a radiant talent."
—Kristen Arnett, New York Times bestselling author of With Teeth and Mostly Dead Things
"Transmutation is an innovative, magical collection about all the things that pulse with possibility: love in all forms, belonging, reckoning, and reclamation. Each sentence is a gem, multi-faceted and full of light. Alex DiFrancesco has the kind of imagination that saves lives."
—K-Ming Chang, author of Bestiary
"In Transmutation, monsters come in many forms but so does grace. Here you will find a merciful vampire, a shrewd lobotomized woman, a repentant rock star, a trans girl finding kinship with a mythical green hag. Alex DiFrancesco's characters are outsiders, often victims of a cruel world, but they are never just victims. These masterfully wrought stories transmute suffering into a kind of triumph, in which harsh realities are never softened but are somehow, sometimes, transcended."
—Jennifer Wortman, author of This. This. This. Is. Love. Love. Love.
"Transmutation is haunting yet immediate, horrifying yet gorgeous, stylishly blasphemous yet earnestly spiritual. I expected clever ghost stories about gender, but what I got will stay with me for a very long time."
—Meredith Russo, author of If I Was Your Girl
"DiFrancesco's characters are not simply reflections of who we appear to be, they are our real selves, the ones we try so very hard to keep hidden. These stories lay them bare and demand that we acknowledge them in all of their wondrous imperfection. Grimy, raw, and glittering with truth, these are portraits of the human heart."
—Michael Thomas Ford, author of Shirley Jackson Award finalist Lily

"Multilayered, poetic, insightful stories that won't let you put them down. Transmutation is simultaneously an absolute pleasure and heartache of a read. I thought about the stories in this book for weeks after I finished them, reliving the small details, searching for new meaning, which I always found."
—Chavisa Woods, author of Things To Do When You're Goth in the Country and 100 Times (A Memoir of Sexism)
"These stories howl like Greek furies about everyday cruelty and the queer monstrous that lives to spite it. Our Nick Cave heir apparent, DiFrancesco here advances the project of the Transmasculine Gothic with a haunting instrumentation and an elegiac rage."
—Jeanne Thornton, author of Summer Fun
"This memorable collection of short stories displays the wild talent of Alex DiFrancesco to push boundaries and explore the imagination while simultaneously comforting and strengthening their readers." —Karla J. Strand, Ms. Magazine
"This beautiful collection of stories features trans and queer characters across many times and places. Some of the stories have magical elements; others are straight-up realistic. They're about family and first love, growing up, queer community, and the weird disconnect between the world as it is and the world as we experience it. DiFrancesco's writing is gorgeous. There's an eerie beauty in each of these stories, and the characters all feel strikingly real." —Laura Sackton, BookRiot
"DiFrancesco takes readers by the hand and guides us into the darkness so slowly we don't realize what's happening until it's too late. They've pulled us entirely away from reality, from the comfort and safety of the things which we assumed to be true. They make us confront the darkness of others and ourselves in ways that are both disorienting and enlightening. They show the ways people reach for each other, and seek to understand, and they write about characters who only know how to violently isolate themselves from others and from their own humanity.
These stories are ostensibly about monsters, but really, they explore what it means to be human. Monsters are the things we carry with us, the things we want to escape, but DiFrancesco shows us monsters are also nothing to fear or run from. Monsters are outsiders and outliers, creatures who live on the boundaries of society and demand to be seen or feared, but they can't be ignored. In Transmutation, the monsters are honored and welcomed as a more true version of their original form, if they started as human, or an idealized version of human potential. They are, too, the creeping horror of monsters that live among us—seen, but still not known until it's too late."
—Jessica Mannion, The Rumpus
"DiFrancesco's sharp and sometimes fantastical collection (after the novel All City) depicts a series of challenges faced by outsiders. Junie, the young trans protagonist of "Inside My Saffron Cave" suffers the tyranny of her mother's abusive boyfriend Chad, whose house they've just moved into. "The Ledger of the Deep" portrays a warmer familial relationship, but not one without problems. The complexity of Dad's feelings is represented by his resistance to renaming Sara, his beloved boat, now that daughter Sara has become Sawyer. The collection's title signals DiFrancesco's often whimsical exploration of various types of change. In "The Disappearance," an aging academic's public screed against minority poets leads to his literal progressive vanishing. The boundless love of a vampire lies at the center of "The Pure," while gypsies and a monster inhabit the eerie folkloric "The Wind, the Wind." "The Chuck Berry Tape Massacre" is the longest and most ambitious story, with parallel woven narratives. One thread follows the descent into lunacy of single mother Kay and the abandonment of her two daughters; the other fancifully charts the obsessive quest of a music lover named Jack Tran. How these narratives connect is left to the reader to decide. Whether striking chords that are playful, poignant, or both at once, this collection consistently charms."
—Publishers Weekly