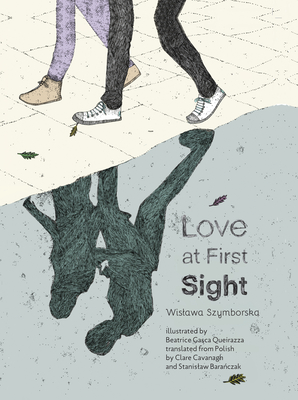 Love at First Sight
Publication Date:
October 25th, 2022
Publisher:
Seven Stories Press
Chop Suey Books
3 on hand, as of Feb 8 9:12pm
On Our Shelves Now
Description
A poem by the winner of the Nobel Prize for Literature, illustrated for readers of all ages that will challenge assumptions about falling in love.
They're both convinced / that a sudden passion joined them.
Such certainty is beautiful, / but uncertainty is more beautiful still.
Love at First Sight is a poem about love and chance and destiny by the 1996 Polish winner of the Nobel Prize for Literature. Illustrated by Italian artist Beatrice Gasca Queirazza, Szymborska's poem comes to life in entirely new ways for her readers and for lovers everywhere in this oversized book perfect for gift giving.
Szymborska tells of two young lovers bound together in an instant—or were they? As the poem unfolds, the reader's assumptions—like those of the lovers themselves—about certainty and destiny are utterly upended, revealing the paradox and mystery of fate. Here is randomness, tricks of memory, and chance, where noticing the smallest details of our intertwined lives is more essential than asking, Are we meant for each other? "Every beginning / is only a sequel, after all…"
Praise for Love at First Sight
"[A] new, graphic book rendering of Nobel Prize in Literature-winning poet Wislawa Szymborska's poem, "Love at First Sight.". . . Transposing the work that Szymborska has presented in Polish to English readers is accomplished by the acute pen of long-time Szymborska translator Clare Cavanaugh, and poet and translator Stanislaw Baranczak, who teamed to dial-in the poet's words with a devastating stillness of effect in this book from Seven Stories Press. . . . This book breathes a highly charged life into the work of an incredible poet and the whole of the work is elevated by the combination of these artist-creators. . . . Taken all together, the package that is this book and poem is compelling and its elements will spring open a door for a new slate of readers to find their way into the fabulous work of Wislawa Szymborska."  —Bruce Arlen Wasserman, New York Journal of Books

"This beautiful, indelible poem by Szymborska has trademark attention to detail—a falling leaf, a doorknob—and, too, her ever-present sense of mystery: why do our lives unfold as they do? How much does chance play in our most deeply felt decisions, and even in our dreams? Beatrice Gasca Queirazza's drawings, at once circumspect and charming, are a graceful companion to the text. A pleasure." —Cynthia Zarin, author of Two Cities and Orbit: Poems