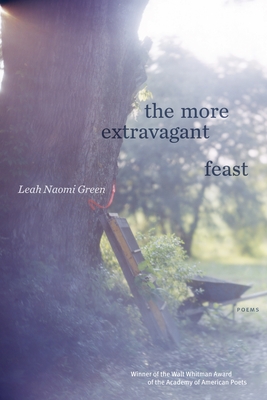 The More Extravagant Feast: Poems
Publication Date:
April 7th, 2020
Publisher:
Graywolf Press
Chop Suey Books
1 on hand, as of Nov 29 4:44pm
On Our Shelves Now
Description
* One of the Boston Globe's Best Books of 2020 *
Winner of the Walt Whitman Award of the Academy of American Poets, selected by Li-Young Lee
The More Extravagant Feast focuses on the trophic exchanges of a human body with the world via pregnancy, motherhood, and interconnection—the acts of making and sustaining other bodies from one's own, and one's own from the larger world. Leah Naomi Green writes from attentiveness to the vast availability and capacity of the weedy, fecund earth and from her own human place within more-than-human life, death, and birth. Lyrically and spiritually rich, striving toward honesty and understanding, The More Extravagant Feast is an extraordinary book of awareness of our dependency on ecological systems—seen and unseen.
Praise for The More Extravagant Feast: Poems
*Silver Winner of the 2020 Nautilus Book Award for Poetry*
"[The More Extravagant Feast] keeps faithful company with the world and earns its name. The darkness and suffering of living on earth are assumed . . . and yet, it is ultimately informed by the deep logic of compassion (is there a deeper human logic?)."—Li-Young Lee, judge's statement for the Walt Whitman Award
"In her tender, delicate, humane lyrics, Green registers the pulse of our species: the rituals of marriage, parenthood. The lyric herein is the air moving through our mortal lungs. . . . This is a book that consoles, nurtures the spirit."—Ilya Kaminsky
"What a feast! What a wonder! The whole measure of life is in these pages. I gobbled this book up and then started it again, so I could savor it further."—Camille T. Dungy
"Leah Naomi Green's beautiful book, her patient and generous book, The More Extravagant Feast, studies, beholds the ways everything, everything, turns around something else—the mother around the fetus, the child around the mother, the beloving around the beloved, the fruit around the seed, the hunter around the buck. And in this beholding these poems remind how the turning around so often becomes, or allows, the turning into. Another word for this witnessing? Gratitude."—Ross Gay

"[A] stunning and sumptuous debut collection. . . . [The More Extravagant Feast] is a deep and reverent meditation on the fact that we are never solely our own, that our lives are always cohabitating with the lives of others—both human and more than human. Told in a language that celebrates compassion, empathy, and a path of loving kindness, the poems here offer our precarious and dire present moment possible paths forward via an ancient way of seeing that can still inform 21st-century living."—Rain Taxi
"In [Green's] poems, no barrier intrudes between humans and animals, plants, or mammals."—Tricycle Magazine
"There is a very Zen sensibility to Green's work, something that is reflected in both her subject matter and her style . . . [the poems's] leanness belies an astonishing depth and understanding."—The Colorado Review
"The action in these poems—washing plates, lighting fires in the woodstove, cutting meat—is written with affection and sensuality that transforms what could be quotidian into something hallowed."—The Bitter Southerner
"Leah Naomi Green generously invites us into relationship: relationship with the greater-than-human-world, with one another, and with the written word. And it is in these relationships that Green challenges us to feel more deeply."—Puerto del Sol