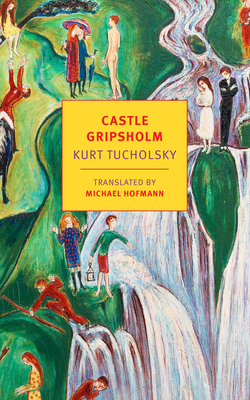 Castle Gripsholm
Publication Date:
May 7th, 2019
Chop Suey Books
2 on hand, as of Feb 8 9:12pm
On Our Shelves Now
Description
A beguiling fable about a summer holiday in the Swedish countryside that transforms into a provocative parable about oppression and the evil awaiting Europe as the Nazis came to power.
Castle Gripsholm, the best and most beloved work by Kurt Tucholsky, is a short novel about an enchanted summer holiday. It begins with an assignment: Tucholsky's publisher wants him to write something light and funny, otherwise about whatever Tucholsky wants. A deal is struck and the story is off: about Peter, a writer; his girlfriend, known as the Princess; and a summer vacation far from the hurly-burly of Berlin. Peter and the Princess have rented a small house attached to a historic castle in Sweden, and they have five weeks of long days and white nights at their disposal; five weeks for swimming and walking and sex and talking and visits with Peter's buddy Karlchen and with Billie, the Princess's best friend. It is perfect, until they meet a weeping girl fleeing the cruel headmistress of a home for children. The vacationers decide they must free the girl and send her back to her mother in Switzerland, which brings about an encounter with authority that casts a worrying shadow over their radiant summer idyll. Soon they must return to Germany. What kind of fairy tale are they living in?
Praise for Castle Gripsholm
"Some books, like most summer holidays, feel entirely undeserved and all too brief. Such is the case with the delightful Castle Gripsholm." —Jan Wilm, Music and Literature
"[A] monument to the loss of faith in language and the depredations upon creativity brought about by large-scale political evil . . . the formal disjointedness which terror and despair evidently incited now reads as more truthful—it's certainly far more moving—than ever a more finished fiction, a more polished satire would have been." —The Observer

"The first writers that come to mind when reading Tucholsky are Nabokov and Ford . . . [Tucholsky is] a master of the studied nonchalance of the tidily perverse." —The Times (London)

"One of the most brilliant writers of republican Germany . . . Tucholsky was known and feared for his sharp wit by all his enemies in Germany. More than anyone else, he foresaw what was coming there. What his readers enjoyed as capricious fantasies of a clever satirist [were] enacted in bitter reality." —The New York Times

"The author, a polemical journalist during the last days of the Weimar Republic, chose in this, his only novel, to write about the pleasures of wine and women and the gratifications of friendship, and to do so in prose so luminous and exuberant that the bitterness of real life seems . . . an intrusion." —Publishers Weekly
"Kurt Tucholsky wrote songs for Berlin revues, ridiculed the Nazis . . . and found refuge in Sweden only to take his own life. . . . There is scarcely any figure in English literature with quite the same degree of acid corrosiveness. One has the sense that all our little disappointments—in love, in business, in politics—are but manifestations of the collective disappointment that is life itself."
—Michael J. Lewis, Commentary