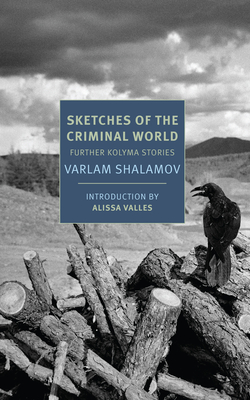 Sketches of the Criminal World: Further Kolyma Stories
Publication Date:
January 14th, 2020
Chop Suey Books
2 on hand, as of Feb 6 11:23am
On Our Shelves Now
Description
The astonishing follow-up to 2018's Kolyma Stories.
In 1936, Varlam Shalamov, a journalist and writer, was arrested for counterrevolutionary activities and sent to the Soviet Gulag. He survived fifteen years in the prison camps and returned from the Far North to write one of the masterpieces of twentieth-century literature, an epic array of short fictional tales reflecting the years he spent in the Gulag. Sketches of the Criminal World is the second of two volumes (the first, Kolyma Stories, was published by NYRB Classics in 2018) that together constitute the first complete English translation of Shalamov's stories and the only one to be based on the authorized Russian text. 
In this second volume, Shalamov sets out to answer the fundamental moral questions that plagued him in the camps where he encountered firsthand the criminal world as a real place, far more evil than Dostoyevsky's underground: "How does someone stop being human?" and "How are criminals made?" By 1972, when he was writing his last stories, the camps were being demolished, the guard towers and barracks razed. "Did we exist?" Shalamov asks, then answers without hesitation, "I reply, 'We did.'"
Praise for Sketches of the Criminal World: Further Kolyma Stories
"The most powerful stories in this volume wed Shalamov's unblinking awareness of human frailty and historic catastrophe to his keen appreciation for nature . . . [A]t its best, Shalamov's prose is poetry of the highest order." —Boris Dralyuk, The Times Literary Supplement

"The impotence of intellectuals and other bookish sorts when they encounter the allied forces of Stalinists and gangsters is a recurrent theme. . . . And yet, despite the emotional and physical damage he sustained in Stalin's camps, Shalamov survived and wrote his hundreds of stories and poems. He embraces the very words he derides. Most other writers in comparison look like dilettantes." —Patrick Kurp, The Los Angeles Review of Books
"As in his earlier volume [Kolyma Stories], Shalamov writes matter-of-factly, unblinkingly, about the endless horrors of the gulag, which are scarcely comprehensible. Essential chronicles of the worst face of the totalitarian state." —Kirkus
"A Virgil of this icy underworld, Shalamov is at his most compelling when bearing witness. He spares no detail, describing the diagnosis of dysentery, corpses exhumed for their clothing and the hacked-off hands of fugitives used for fingerprint identification. . . . We are fortunate that he—who died deaf, nearly blind and institutionalised—not only survived his sentence but had the force to withstand the exorcism of the experience." —Mia Levitin, The Spectator
"'Every story of mine is a slap in the face of Stalinism,' Shalamov wrote in 1971. . . . Shalamov's stories are slaps in all our faces—and, like a slap, they can enliven as well as hurt. . . . Shalamov is not only a unique witness, but also a fine poet and one of the greatest of Russian writers of short stories. He is as important a figure as Primo Levi." —Robert Chandler, Financial Times
"Shalamov is an unparalleled reporter on life in the Gulag and anatomist of the camp condition, which like an ulcer bled its malignance through the whole body of Soviet society. Not only a reporter but a great practitioner too of a ruthlessly stripped-down art." —J. M. Coetzee
"Shalamov's experience in the camps was longer and more bitter than my own. . . . I respectfully confess that to him and not me it was given to touch those depths of bestiality and despair toward which life in the camps dragged us all." —Aleksandr Solzhenitsyn