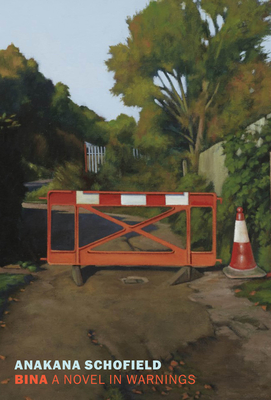 Bina: A Novel in Warnings
Publication Date:
February 2nd, 2021
Publisher:
New York Review Books
Chop Suey Books
1 on hand, as of Jan 28 5:03pm
On Our Shelves Now
Description
A provocative, feminist novel about a woman who persists in spite of the violence, injustice, and oppression that fills her world.
Bina is a woman who's had enough and isn't afraid to say so. "I'm here to warn you, not reassure you," she announces at the book's outset. In a series of taut, urgent missives she attempts to set the record of her life straight, and in doing so, to be useful to others. Yet being useful is what landed her in jail. Empathy is her Achilles' heel. Her troubles seem to stem from an injured stranger named Eddie, and they multiply when her charity extends from delivering meals to the elderly to working with the dying. No good deed of hers goes unpunished and the costs of her capacity for care are legion, as one by one she is denied her livelihood, her health, and her freedom, but her voice continues resolutely, an act of friendship in itself. Bina is an unsettling, thought-provoking novel of formal inventiveness and moral and emotional complexity by a bold and talented writer.
Praise for Bina: A Novel in Warnings
Shortlisted for the Goldsmiths Prize 2020
A Kirkus Best Fiction Book of 2021
"This is a novel of fragments and warnings, with the kind of humour that perturbs even as it entertains. Read it once and you will remember it always." —Marianne Levy, iNews (UK)
"A masterwork that should cement Bina (and Schofield) as one of the great voices in recent fiction." —Kirkus (starred review)
"Bina is a bitterly funny novel but one that carries moral weight.  Ultimately much of its energy comes from the simple subversive act: making a woman's life matter, making her voice be heard." —Evie Wyld, The New York Times Book Review
"Intriguingly crafted and surprisingly funny, Schofield continues to produce work that challenges conventions and enthralls readers." —Publishers Weekly (starred review)
"Bina makes for great company; her obstinacy, like Bartleby's, is flecked with heroic resistance, and her complaints elicit a pleasing mixture of satisfaction and dread. . . . The intimacy of Bina's direct address is the book's greatest weapon. It underlines much of what we are meant to understand about Bina (her frankness, her loneliness) and much of what we are meant to realize about ourselves (our expectation that she will be helpful or amusing)." —Katy Waldman, The New Yorker
"In the vein of Rachel Cusk or Clarice Lispector from whom she draws one of her epigraphs, Schofield uses her book's inventive structure to deliver a story that's biting, bitter and rife with dark humor. Relentless in her tone of alarm, like a warning bell or a warning shot, Bina's words will leave your head ringing." —Kathleen Rooney, Star Tribune
"Ms. Schofield's method is to render the thoughts of her protagonist in clipped, telegraphic sentences that slowly flesh out the details of the story like tiles in a mosaic. By the end of Bina you will understand the old woman's life and alleged crimes, but until then you have only her decontextualized voice. These scattered lines of thought, which Ms. Schofield sometimes arranges like verses of prose poetry, compress a remarkable amount of humor, anger and sadness. . . . The novel holds out no consolation except the vigor of its telling. If she has nothing else, Bina has had her say." —Sam Sacks, The Wall Street Journal
"Bina treats problems of social care slantwise, with a caustic charm liable to leave you blindsided by its most painful turns . . . Powerful, funny and highly manipulative . . . [with] admirable, wholly non-emollient chutzpah." —Anthony Cummins, The Guardian
 
"This style is entirely unique: Schofield's wit makes it slip down easily, yet her refusal to spell things out gives the reader plenty of work to determine what is going on. By not telling us explicitly what happened, we are embedded more deeply in Bina's character. The reader has a greater investment in her story and her life, and the book makes a dialogue out of a monologue. . . . [Bina's] warnings pepper the reader like buckshot, sober slaps in the face amid the tragicomic malarkey. . . . Here's another warning: watch out for this book . . . It will undo you." —John Self, Irish Times
 
"Imagine, if you can, Samuel Beckett reborn as a 21st century woman and you will have an approximation of the literary pleasures on offer in a Schofield novel. Hers is a distinctive, deadpan prose, echoing with menace and laced with black humour. The novel is a bit like a tough minded feminist Waiting for Godot rendered in suggestive, post modern fragments that imply narratives of violence against women, assisted suicide, death, friendship and madness." —Tom Sandborn, Vancouver Sun
"In Bina, Schofield gives her readers a great deal . . . [the voice is] entertaining—but Bina is so much more. . . . It is a book that honours female friendship and its extraordinary gifts. . . . Bina's narrative is not linear; it is an economical sort of roundabout puzzle. You can finish it in a day, but you had better pay attention, and it will stay with you for a good deal longer." —The Globe and Mail
"Candid, abrasive, selectively compassionate, and intermittently forgetful, the homespun philosopher first glimpsed in Malarky . . . is a weathered cabinet chock full of revelations, opinions, maxims, and hard-earned wisdom for us, her presumed readers. . . . With her superbly realized and delightfully contradictory 'practical woman' at the centre of an artful tale, Vancouver's Schofield never fails to captivate, entertain, and provoke. Maith thú!" —Toronto Star
 
"Schofield locates herself in the vanguard of a group of strong women writers—Rachel Cusk, Eimear McBride, Valeria Luiselli, Anna Burns—who are radically revising the novel's potential and pushing it forward as a form. She calls this book 'a novel in warnings,' as if putting the reader on notice as to its singularity and calibrated strangeness. Her work is challenging and perturbing, sure. It is also, pace Marie Kondo, a source of much joy." —Steven W. Beattie, Quill & Quire
"Bina is fiction of the rarest and darkest kind, a work whose pleasures must be taken measure for measure with its pains. Few writers operate the scales of justice with more precision ... The novel's themes--male violence, the nature of moral courage, the contemporary problems of truth and individuality, the status of the female voice--could hardly be more timely or germane. Schofield's sense of injustice is unblinking and without illusion, yet her writing is so vivacious, so full of interest and lust for life: she is the most compassionate of storytellers, wearing the guise of the blackest comedian." —Rachel Cusk
"Insightful. Inventive. Hilarious. Genius." —Eimear McBride
"Intimate, disarming, and riotous, Bina is a searing exploration of one woman's soul that unwinds like a reluctant confession. Whether Bina is rescuing a ne'er-do-well from a ditch, taking a hammer to a plane or considering the dark request of her best friend, Schofield has created a compelling, practical everywoman—a woman who has had enough and is ready make a spectacle." —Eden Robinson
"Bina is a provocative, feminist novel about a woman who persists in spite of the violence, injustice, and oppression that fills her world. Bina is a woman who has had enough and isn't afraid to say so." —Martin Doyle, The Irish Times