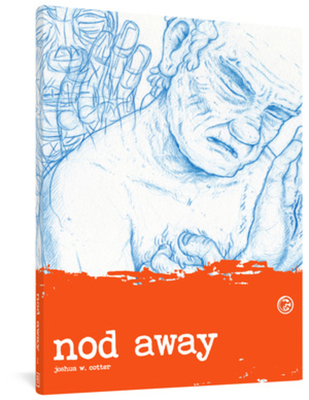 Nod Away Vol. 2
Publication Date:
September 7th, 2021
Chop Suey Books
2 on hand, as of Feb 5 11:11pm
On Our Shelves Now
Description
An SF graphic novel, the second in an epic series, set in a near-future where the internet is telepathic and its hub is a human child.
Vol. 2 moves away from the deep space transport where Vol. 1 took place and moves to earthly terrain, peeling back layers of Cotter's world-building to reveal the bigger picture of this graphic novel series in ways that upend expectations. Aveline Moiré is a headstrong but self-destructive young French woman. When she meets and moves in with a young artist, Walter Walker, little do they know that the wheels they set in motion may bring about the end of humankind. Working within the structure of SF, Nod Away moves back and forth between physical and psychological worlds. It utilizes traditional and abstract storytelling styles to explore what consciousness could be, its location, what function or point it might serve, and how a lack of personal responsibility and accountability will always corrupt it. At a projected seven volumes and over 2000 pages in all, Nod Away is poised to be one of the great comics classics of the 21st century.
Praise for Nod Away Vol. 2
Josh Cotter amazes me. What Cotter has done is just remarkable. This is visual storytelling of the highest kind. Next level. Beautiful and profound! Emotion bleeds from every page.
— Emil Ferris
Nod Away is the unfolding masterwork of one of the most unique voices in comics. Cotter has created a fascinating and meticulously detailed world, and crafted a tale full of twists, a throbbing dread, and with powerful, emotional depth. The narrative is wholly original, and the artwork is simply stunning. By the time these seven volumes are finished, Nod Away will stand as one of the great sci-fi epics in comics history.
— Derf Backderf
Nod Away is like a night terror. It has the terrible urgency of dreams. Passageways go on forever but also trap you; you're jostled by characters who are painfully alive but are as helpless as dolls. Cotter is loving and brutal both. You shout out loud but stay sleeping.
— Eleanor Davis
There is no one in comics like Josh Cotter. There are no comics in comics like Josh Cotter's. Josh is like a weird antenna picking up signals only he can hear and broadcasting out these stunning and beautiful waves of strangeness and delight. We are all better off for it, and for him.
— Matt Fraction
Beautifully drawn, provocative, and remarkably intelligent, Nod Away is likely to be one of the most exciting ongoing sagas in comics for many, many years to come.
— Solrad