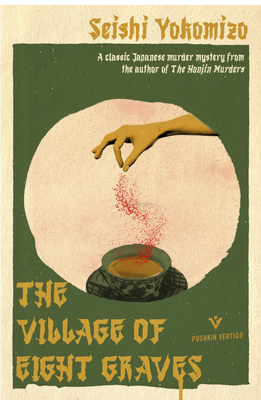 The Village of Eight Graves (Detective Kindaichi Mysteries #35)
Publication Date:
December 7th, 2021
Publisher:
Pushkin Vertigo
Chop Suey Books
5 on hand, as of Feb 6 11:23am
On Our Shelves Now
Description
The third title in Japan's most popular murder mystery series -- after The Honjin Murders and The Inugami Curse -- fiendish classics featuring investigator Kosuke Kindaichi.
 
Translated into English for the first time. 
Nestled deep in the mist-shrouded mountains, The Village of Eight Graves takes its name from a bloody legend: in the Sixteenth Century eight samurais, who had taken refuge there along with a secret treasure, were murdered by the inhabitants, bringing a terrible curse down upon their village.
Centuries later a mysterious young man named Tatsuya arrives in town, bringing a spate of deadly poisonings in his wake. The inimitably scruffy and brilliant Kosuke Kindaichi investigates.
Praise for The Village of Eight Graves (Detective Kindaichi Mysteries #35)
"Kosuke Kindaichi, the scruffy investigating detective, bears more than a passing resemblance to Columbo who made his TV debut in 1971 — which, coincidentally, is when this amusing novel was first published in Japan."
--The Sunday Times Crime Club (UK)
"This taut mystery provides an original variation on The Hound of the Baskervilles… Kosuke Kindaichi, Yokomizo's Columbo-like sleuth, arrives to sort through the tangled puzzle and provide a satisfying solution. Fans of gothic-tinged fair play will be enthralled"
-- Publishers Weekly (starred review)