Preorder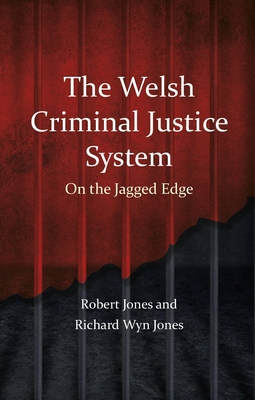 The Welsh Criminal Justice System: On the Jagged Edge
Publication Date:
January 19th, 2023
Publisher:
University of Wales Press
Description
The first systematic account of criminal justice in self-governed Wales.
 
The Welsh criminal justice system is unique. While Wales has been self-governed for nearly twenty-five years, the country lacks the equivalent of Scotland or Northern Ireland's independent judiciaries and justice systems. Yet the extensive responsibilities of Wales's own institutions ensure that they necessarily play a significant role in criminal justice. As a result, the Welsh criminal justice system operates across a 'jagged edge' of devolved and reserved powers and responsibilities.
This book provides the first academic account of this system. It demonstrates not only that Wales has some of the worst criminal justice outcomes in western Europe, but that even if the will existed to address these problems, the current constitutional underpinnings of the Welsh criminal justice system would make it nigh-on impossible. Based on official data and in-depth interviews, this is an urgent and challenging book, required reading for anyone interested in Welsh politics and society.
Praise for The Welsh Criminal Justice System: On the Jagged Edge
"This book is a powerful and eminently readable analysis of the Welsh criminal justice system. It examines the basic issues of costs, the ability to deliver joined-up policy, labyrinthine complexity, accountability and outcomes. With its in-depth research, it shows why the system is failing Wales, and reinforces the compelling need for fundamental change."
— Lord Thomas of Cwmgiedd, former Lord Chief Justice of England and Wales
"This book is both an indictment and a call to action. It is impossible to read without being convinced by the data that the under-performing Welsh criminal justice system is dysfunctional, poorly-scrutinized and inhumane, trapped in a constitutional limbo of conflicting powers and responsibilities between Westminster and Cardiff. Devolution of justice is overdue: here is the critical evidence."
— Liz Saville Roberts, MP for Dwyfor Meirionnydd
"This book is key reading for anyone seriously interested in the condition of Wales and where the country should or might be heading. Concerned with the human face of state power in a strange constitutional situation, the authors show how the wider Welsh criminal justice system is distinct even as part of an ostensibly single England and Wales arrangement. Via principled argument and empirical evidence of poor outcomes, they investigate problems of waste, policy fragmentation and lack of accountability previously identified by the landmark Commission on Justice in Wales. The book powerfully portrays progressive politics without the justice function as like Hamlet without the Prince."
— Richard Rawlings, University College London
"The experiences and needs of Welsh communities have been long neglected in the corridors of Whitehall. The Welsh Criminal Justice System provides a vital corrective, exploring criminal justice in Wales in fine detail, and setting out a clear path to creating the kind of society Wales deserves. Anyone who has a stake in twenty-first-century Wales must read this book."
— Ellie Mae O'Hagan, Director of the Centre for Labour and Social Studies