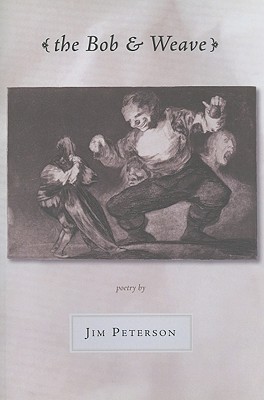 The Bob and Weave
Publication Date:
February 28th, 2006
Chop Suey Books
2 on hand, as of Dec 1 5:16pm
On Our Shelves Now
Description
"Despite the lyric tenderness and subtlety of their voices, the poems in iThe Bob and Weave are simultaneously surreal, spooky, and full of brave love for the world's mysteries, visible and invisible. Like an unpredictable wind, this work finds its way into the cracks between everything you think you know, then overflows them."
--Claire Bateman
"Jim Peterson's poems are filled with the things of this world--its horses, hands, stones, and baseball players--but are not themselves its inhabitants. Rather, this poet moves in a realm where 'there is / a space between him and the world and he / tunes it like one string of a violin.' Equally committed to nature, to spirit, to dreams, and to the touch of another human body, Peterson constantly expects 'a message / from something that isn't me / or even like me.' The tensions evolving from this anticipation are by turns erotic, mysterious, and instructively frightening."
--Steven Corey
"With The Bob and Weave, Jim Peterson announces himself as a major American poet. These poems offer insight into both the quotidian and the eternal, and while we hear echoes of his near predecessors--Dickey, Merwin, Hugo, Roethke--the voice in this new collection--assured, resonant, vatic--is entirely Peterson's own."
--David Starkey