Staff Pick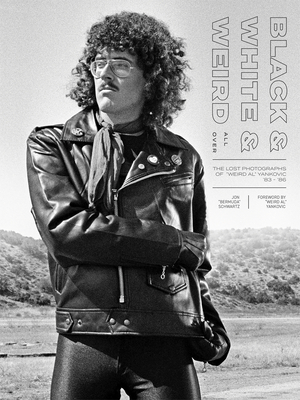 Black & White & Weird All Over: The Lost Photographs of Weird Al Yankovic '83 - '86
Publication Date:
November 17th, 2020
Publisher:
1984 Publishing
Description
As featured in Rolling Stone, Entertainment Weekly, The A.V. Club, Nerdist, Gizmodo, Ultimate Classic Rock, and more
Weird Al Yankovic is one of music's most beloved figures. A skilled accordion player and songwriter, the California native is known for his meticulous parodies of popular songs, hilarious originals, and, of course, for upbeat polkas
For much of Al's career, one man has been by his side, photographing and documenting the fun and weirdness: longtime drummer Jon Bermuda Schwartz. Since meeting Al in 1980, Jon has taken more than 20,000 images of Al in his element: on tour, in the studio, and on video sets.
Black & White & Weird All Over presents hundreds of images of Al, culled from Jon's personal collection of black-and-white photography. These photos only existed on contact sheets - out of mind and out of sight - until now From behind-the-scenes shots taken on the sets of Al's iconic videos for Ricky, I Love Rocky Road, Eat It, and Living With A Hernia, to studio sessions for Al's IN 3-D and Polka Party LPs, Black & White & Weird All Over is the ultimate photographic essay of Weird Al's undisputed comedic genius.