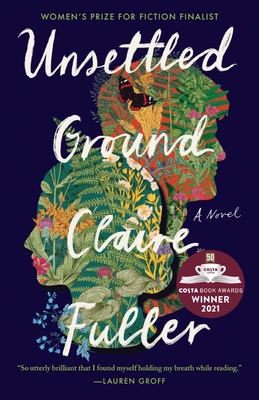 Unsettled Ground
Publication Date:
April 26th, 2022
Publisher:
Tin House Books
Chop Suey Books
2 on hand, as of Feb 8 9:12pm
On Our Shelves Now
Another fantastic story from Claire Fuller, whose novels are full of depth and insight. Unsettled Ground reveals a complex relationship between a mother and her twin adult children, and the secrets that push them to the very edge of existence. I can't recommend her enough!
June 2021 Indie Next List
Description
Winner of the 2021 Costa Novel Award
Finalist for the Women's Prize in Fiction

Named a Best Book of the Month by Entertainment Weekly, PopSugar, Bustle, Chicago Review of Books, PureWow, a Best Book of Summer by Daily Beast and one of Good Housekeeping's Best Books of 2021
"Full of dramatic twists and turns right up until its moving, beautiful end." —NPR Books
At fifty-one years old, twins Jeanie and Julius still live with their mother, Dot, in rural isolation in the English countryside. The cottage they have shared their entire lives is their only protection against the modernizing world around them. Inside its walls, they make music, and in its garden, they grow everything they need to survive. To an outsider, it looks like poverty; to them, it is home.
But when Dot dies unexpectedly, the world they've so carefully created begins to fall apart. The cottage they love, and the security it offered, is taken back by their landlord, exposing the twins to harsh truths and even harsher realities. Seeing a new future, Julius becomes torn between the loyalty he feels towards his sister and his desire for independence, while Jeanie struggles to find work and a home for them both. And just when it seems there might be a way forward, a series of startling secrets from their mother's past come to the surface, forcing the twins to question who they are, and everything they know of their family's history.
In Unsettled Ground, award-winning author Claire Fuller masterfully builds a tale of sacrifice and hope, of homelessness and hardship, of love and survival, in which two marginalized and remarkable people uncover long-held family secrets and, in their own way, repair, recover, and begin again.
Praise for Unsettled Ground
Timeless. . . . [a] shadowy family saga, which is marked by illicit love, violence and blood debts.
— The Wall Street Journal
Engrossing.
— Entertainment Weekly
A simple but powerful story of rural poverty, sibling relationships and, perhaps above all, resilience.
— PureWow
Powerful. . . . fascinating.
— BookRiot
A quiet tale of loss and survival.
— Good Housekeeping
Transfixing.
— Chicago Review of Books
A winner.
— The Center for Fiction
An unnerving and emotional novel of family secrets, vulnerability and resilience.
— Shelf Awareness
Rapturous.
— The San Diego Union Tribune
One mystery after another arises and two siblings who have been left behind by the modern world face changes both gentle and profound.
— The Daily Beast
A darkly poignant novel about an unusual family.
— Texas Public Radio
Revelatory. . . . a powerful, beautiful novel.
— The Times (UK)
Fuller explores the painful realities of poverty and social isolation with immense sensitivity in this multilayered and emotionally astute novel.
— The Guardian
An intriguing premise made more so by the paucity of novels featuring vulnerable older adults.
— Financial Times
Superb.
— Daily Mail
If you're a reader who lives for contemplative storytelling and perfectly wrought characters, this author is for you.
— BookPage
Ambitious.
— The TLS
A page-turner. . . . reflecting the humble beauty of country life in every page, Unsettled Ground will appeal to a wide array of readers.
— Harvard Review
An intriguing, moving novel that will make you question assumptions you have about modern life.
— Tracy Chevalier
A book like Unsettled Ground is why we read. . . . Written with tenderness and beauty, Unsettled Ground is not to be missed.
— Sherri Gallentine, Vroman's Bookstore, BuzzFeed Best Books of Spring as Recommended by Booksellers
A gorgeously written and moving portrait of a family struggling against time.
— Lucy Tan, author of What We Were Promised
Another sly psychological treat from Claire Fuller, who just keeps on getting better with each book.
— Laline Paull, author of The Ice
Fuller's prose is darkly elegant, her eye for character astute and humane, and her sense of place vividly atmospheric—here is a writer of great skill, sensitivity, and subtlety.
— Lucy Atkins, author of Magpie Lane
Claire Fuller strikes the perfect balance between beauty and melancholy in this relevant and powerful exploration of isolation and life on the fringes of society.
— Clare Mackintosh, author of After the End
Fuller has created a propulsive story that readers can't help but get caught up in.
— Necessary Fiction
Prepare for an experience of the English countryside that's somewhat at odds with its typically idyllic depiction. . . . As the title suggests, at each turn there's something new and unexpected.
— Bookmarks
Wonderful. Unsettled Ground is a beautifully constructed book with interesting characters, and I'm convinced I won't read a better one this year.
— Ron Rash, The Boston Globe
Suffused with gorgeous little details.
— Feminist Book Club
Fascinating.
— The Star (Canada)
[Fuller's] absorbing novel unsettles us with its fine evocation of life's fragility while grounding us in the healing powers of love, loyalty and nature's bounty.
— Independent (IRE)
A story full of secrets in which nothing is quite as it seems.
— New Books Network Podcast
Beautiful and intriguing.
— Across the Pond Podcast
Devastatingly haunting.
— Booklist, Starred Review
Evocative. . . . Fuller builds suspense over the twins' fate and ends with a brilliant twist.
— Publishers Weekly
You'll find yourself desperately rooting for Julius and Jeannie.
— The Weekly Reader
Fuller is a master of building suspense. . . . At once unsettling and hopeful, her book checks all the boxes of an engrossing mystery.
— Kirkus Reviews