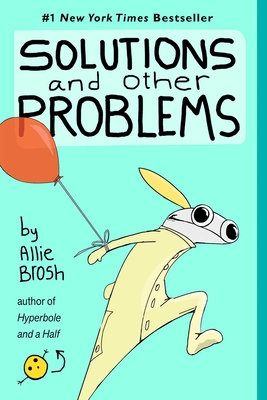 Solutions and Other Problems
Publication Date:
September 27th, 2022
Chop Suey Books
4 on hand, as of Dec 6 4:05pm
On Our Shelves Now
Solutions and Other Problems made me laugh out loud — like, deep belly laughter, which has been noticeably absent in my life for several months (for obvious global pandemic reasons). It also sometimes sucked the air straight out of my chest with its poignancy. And then two pages later, it had me laughing again. Brosh has a way of making the art of being human feel normal and magical and confusing and all-too-clear. I think this book might be exactly what people need right now — maybe even especially right now.
October 2020 Indie Next List
Description
INSTANT #1 NEW YORK TIMES BESTSELLER
Allie Brosh—beloved author and artist of the extraordinary #1 New York Times bestseller Hyperbole and a Half—returns with a long-awaited collection of "hilarious and slyly poignant" (People), autobiographical, illustrated essays.
Solutions and Other Problems includes humorous stories from Allie Brosh's childhood; the adventures of her very bad animals; merciless dissection of her own character flaws; incisive essays on grief, loneliness, and powerlessness; as well as reflections on the absurdity of modern life. "No one sums up the hilarity, devastation, and bizarreness of life quite like comic artist and blogger Allie Brosh" (NPR).
This full-color, beautifully illustrated edition features all-new material with more than 1,600 pieces of art. Solutions and Other Problems marks the return of a beloved American humorist who has "the observational skills of a scientist, the creativity of an artist, and the wit of a comedian" (Bill Gates).
Praise for Solutions and Other Problems
"Brosh's storytelling is so distinctive and compelling it's like suddenly running in to a friend you feared was lost forever . . . [She] reliably channels the simplicity of a child or the innocence of an animal and tells raucous, heartbreaking stories that reflect the hidden parts of us all . . . For Brosh's millions of fans, this is well worth the wait."
—Kirkus Reviews
"Gut-busting . . . . Like a millennial James Thurber, Brosh has a knack for seeding a small, choice detail that snowballs into existential chaos . . . [Her] spidery and demented digital portraits, a visual expression of fun-house mirror anxiety, fits her material perfectly. . . This achingly accurate and consistently hilarious comic memoir finds Brosh moving forward and becoming a stronger, braver storyteller page by page."
—Publishers Weekly, Starred Review
"Through it all, [Brosh] is refreshingly vulnerable and honest. In trying to overcome her weaknesses, by spending a night alone in the woods, she reminds us that it's okay not to be okay ... Another standout from Brosh that is both heartening and heartbreaking."
—Library Journal, Starred Review
"Brosh alternates sorrow with levity—funny childhood stories, more animal tales, and general musings on life and its lack of meaning or fairness—with grace that feels true to life."
—Booklist
"The book an author produces after a wildly popular debut has all eyes on it. Fear not, Allie Brosh fans: Solutions and Other Problems is every bit as hilarious and slyly poignant as 2013's Hyperbole and a Half. Starting with the time she got stuck in a bucket at age 3, Brosh's autobiographical comics thrust her into a variety of insane and sometimes heartbreaking scenes. She battles anxiety, depression, annoying neighbors . . . and somehow, it cheers you right up."
—People