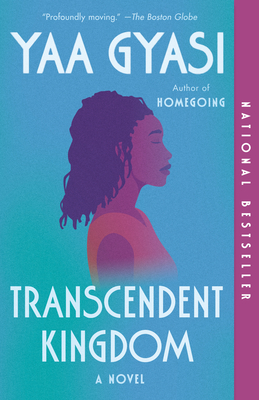 Transcendent Kingdom: A novel
Publication Date:
July 6th, 2021
Usually Arrives in 3 to 5 Days
Gifty immigrated from Ghana, grew up in Alabama, and is working on a PhD in neuroscience at Stanford, where she experiments with mice. She has always felt she wasn't cool enough or white enough, and tries to prove her value through her brilliance. She tells her raw and powerful story of racism, addiction, mental illness, and especially faith and prayer, all while trying hard to mend a complicated relationship with her mother. This second novel from the author of the award-winning novel Homegoing is compelling and so, so beautifully written.
September 2020 Indie Next List
Description
NATIONAL BESTSELLER • Yaa Gyasi's stunning follow-up to her acclaimed novel Homegoing is "a book of blazing brilliance" (The Washington Post)—a powerful, raw, intimate, deeply layered novel about a Ghanaian family in Alabama.
A TODAY SHOW #ReadWithJenna BOOK CLUB PICK! • Finalist for the WOMEN'S PRIZE
Gifty is a sixth-year PhD candidate in neuroscience at the Stanford University School of Medicine studying reward-seeking behavior in mice and the neural circuits of depression and addiction. Her brother, Nana, was a gifted high school athlete who died of a heroin overdose after an ankle injury left him hooked on OxyContin. Her suicidal mother is living in her bed.  
 
Gifty is determined to discover the scientific basis for the suffering she sees all around her. But even as she turns to the hard sciences to unlock the mystery of her family's loss, she finds herself hungering for her childhood faith and grappling with the evangelical church in which she was raised, whose promise of salvation remains as tantalizing as it is elusive.
Praise for Transcendent Kingdom: A novel
ONE OF THE GUARDIAN'S BEST BOOKS OF THE YEAR
"Transcendent Kingdom trades the blazing brilliance of Homegoing for another type of glory, more granular and difficult to name."
—The New York Times Book Review
 
"Laser-like. . . . A powerful, wholly unsentimental novel about family love, loss, belonging and belief that is more focused but just as daring as its predecessor, and to my mind even more successful. . . . [Transcendent Kingdom] is burningly dedicated to the question of meaning. . . . The pressure created gives her novel a hard, beautiful, diamantine luster."
—The Wall Street Journal
 
"Yaa Gyasi's profoundly moving second novel takes place in the vast, fragile landscape where the mysteries of God and the certainties of science collide. Through deliberate and precise prose, the book becomes an expansive meditation on grief, religion, and family."
—The Boston Globe
 
"A stealthily devastating novel of family, faith and identity that's as philosophical as it is personal."
—USA Today
 
"Will stay with you long after you've finished it."
—Real Simple
 
"Achingly lovely. . . . With her sophomore novel, Gyasi is narrowing her scope. Transcendent Kingdom is the story of one specific girl in one specific family: it is interior, psychological, and deeply focused on sifting through the layers of Gifty's mind as she studies and prays and experiments to try to find her way to what lies at the core of human beings."
—Vox
 
"A luminous, heartbreaking and redemptive American story, Transcendent Kingdom is the mark of a brilliant writer who is just getting started." 
—Seattle Times
"Elegant. . . . Burrows into the philosophical, exploring with complexity what it might mean for us to live without firm answers to the mysteries that wound us. . . . The measured restraint of Gyasi's prose makes the story's challenging questions all the more potent."
—The San Francisco Chronicle
 
"A study of origin stories and the ways they can be wielded against people, particularly ones who grew up poor and Black. . . . Gyasi has returned to her roots, and they run deeper now."
—The New Republic
 
"Gyasi excels. . . . [Transcendent Kingdom] insightfully explores many pressing issues of our time, and in marrying science with faith, explores the limits and possibilities of both."
—Christian Science Monitor
 
"An evocative portrayal of the immigrant experience and an astutely written character study of an individual reconciling with her past, along with her struggle with faith and science."
—Chicago Review of Books
 
"Haunting. . . . Astute and timely. . . . [A] meditation on life's big themes of love and loss, and one woman's quest to understand the human condition as she grapples with both."
—The Women's Review of Books
 
"Meticulous, psychologically complex. . . . At once a vivid evocation of the immigrant experience and a sharp delineation of an individual's inner struggle, the novel brilliantly succeeds on both counts."
—Publishers Weekly (starred review)
 
"Unforgettable. . . . Transcendent Kingdom has an expansive scope that ranges into fresh, relevant territories—much like the title, which suggests a better world beyond the life we inhabit." —BookPage (starred review)
 
"Gyasi's contemporary novel of a woman's struggle for connection in a place where science and faith are at odds is a piercingly beautiful tale of love and forgiveness."
—Library Journal
 
"Gyasi's wise second novel pivots toward intimacy. . . . In precise prose, Gyasi creates an ache of recognition, especially for readers knowledgeable about the wreckage of addiction. Still, she leavens this nonlinear novel with sly humor."
—Kirkus Reviews (starred review)